Leading-Edge Pitch Solutions for High Reliability
Our latest Pitch System features a highly reliable design that reduces maintenance requirements, improves turbine availability and maximizes power generating capabilities — all of which are critical to decreasing your wind turbine's Levelized Cost of Energy. Each high performance solution is designed to match specific requirements for maximum safety and efficiency. Every installed Moog system is backed by our global support network.
The systems include high performance Pitch Servo Drives, Pitch Motors and Backup Systems designed and built for maximum reliability. Our Backup Systems feature ultracapacitor cells, and are independent and not interconnected to ensure redundancy.  
Typical Architecture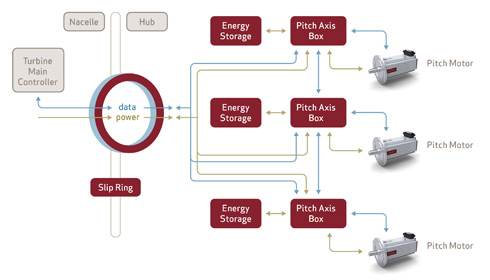 Our latest solution is the Pitch System 3. To know more, click here>
What is a Pitch System?
A pitch system monitors and adjusts the angle of the wind turbine blades and thus controls the rotation speed of the rotor. At lower wind speeds, the ideal angle accelerates the rotor rotation speed, while at higher speeds, the blade pitch control reduces the wind load on the blades and structure of the wind turbine. Over a certain wind speed the pitch system starts to rotate the blades out of the wind, thereby slowing and stopping the rotor to avoid damage.