Moog Pitch System Architecture
Moog's Pitch System controls the rotor blade pitch angle in wind turbines, ensuring safe operation, even in the event of a failure. It has been designed to meet the demanding requirements of wind turbines even in extreme climates. 
Our Pitch System provides high reliability with low maintenance to reduce turbine downtime and enables wind turbines to generate more power while reducing levelized cost of energy. Each high performance solution can be tailored to match specific requirements for maximum safety and efficiency. Every installed Moog system is backed by our global support network.
The systems include high performance Pitch Servo Drives, Pitch Motors and Backup Systems designed and built for maximum reliability. Our backup systems feature acid lead batteries or capacitors, and are independent and not interconnected to ensure redundancy.  
Architecture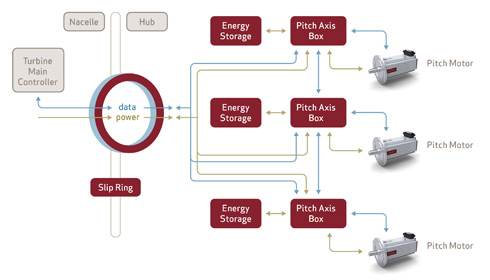 Moog's Electric Pitch System is a fully integrated solution for precise control of blade pitch on large size wind turbines.
See Also
Electric Pitch Products:
Hydraulic Pitch Products: