Remote Terminal Software
REMOTE SERVICING FOR PITCH SYSTEMS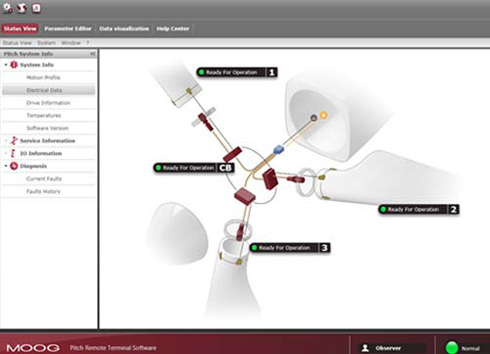 Remote servicing is a key factor for wind turbine efficiency and safety, especially in onshore and offshore locations. The Moog Wind Turbine Pitch Remote Terminal Software for pitch systems offers remote or on-site access and ensures that operators and manufacturers are able to perform operational analysis and monitoring based on real data. Remote access offers critical monitoring and control functions, in order to reduce turbine downtime. The tool will also help operators plan on-site service work, allowing for effective and targeted maintenance.
Features and Benefits
Reduces turbine downtime
Enables remote access
Offers visualization of operational data and provides error log book
Allows timely planning for more efficiency
Reduces service costs
The service tool can be accessed remotely and on-site, it offers a range of benefits which will be presented within the Moog Pitch Control Training program.