Safety Software
Added Safety for Your Patients, Easy for You to Use
The Protocol Library Safety System software is different than a standard drug library because it allows you to download entire drug protocols while still providing the added safety of medication limits.
Added Safety - Reduce programming time and opportunity for user error with the potential for over 100 total drug protocols* that can be administered at point of care. Prevent users from exceeding standardized parameters with programmable soft and hard dose limits. Medication name is displayed on screen when using library protocols.
Improved Clinical Efficiency- Accurately monitor the infusion process and capture extensive clinical information and analytical data. Better manage pain with documented statistics that can be depicted graphically. Monitor catheter patency with line pressure reports.
Accuracy - Ensure accuracy through multiple user approvals of library and protocols. Customize libraries to meet the specific needs of your facility.
Documentation - More than 60 recorded variables and 6,000 retrievable and printable events provide thorough documentation for audit trail, compliance, and analysis. Document compliance issues and overall pump performance with a report that has date and time stamped key infusion "events".
Easy to Use - Simple user interface is based upon proven Curlin menu-driven screens. Easily edit and manage protocols through the protocol library management interface. Multiple user and security privileges. Versatile programming options allow you to program your pump using a PC.
* Depends on complexity of protocol.
Software Requirements
PC
Windows 2000, XP, or Vista based PCs
Pump
Moog Curlin Infusion Painsmart or 6000 CMS pumps with necessary software revisions
Medical Contact & Support

+1 800.970.2337
If you have any questions or require additional information, please contact the Medical Devices Group customer support.
EnteraLite Infinity Support Materials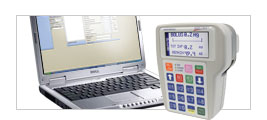 The Protocol Library Safety System can be installed on the following infusion devices: