Actuators & ServoActuators
Electric
Performance: Long-lasting performance and reliability with integrated design and part count
Precision: Better precision motion control and low inertia motors for higher acceleration
Efficiency: Reduces maintenance and operating costs, and eliminates the potential of oil leaks
Flexible Electric Linear Servo Actuators - Forces up to 115.6 kN
Actuators with inline and foldback design and internal anti-rotation, with a variety of motor windings for optimal performance.
MA/MG Series - Forces from 1270 N - 24,400 N
Low noise and low operational cost actuators, with longer lifetimes compared to pneumatic and hydraulic cylinders.
Servoactuation Packages
Combining a linear electric servoactuator, servodrive and integrated software
Designed to meet maximum machine performance
Engineered in advance, each component is optimized to work together
Choice of Standard or Flexible Servoactuators
Make a smooth transition from hydraulic to electric
Intuitive commissioning software helps reduce system setup time
Custom Solutions
Meeting your special performance characteristics:

Servomotor modifications
Optimized packaging to reduce envelope size
Special performance requirements such as longer life, high duty cycle and more
Special operating characteristics such as extremely smoothness, low acoustic noise etc.
Extra Line Actuators Series - Ball screw and timing belt movement types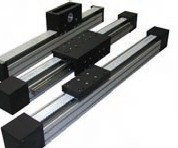 Ball Screws and Timing Belt actuators specially designed for heavy loads. Durable and maintenance free.
Applications
Sheet metal Machinery
Paper Machinery
Food and Beverage Machinery