Mobile Robotic Solutions
Mobile robotics presents unique motion control requirements such as low weight, small size and high performance.   Many applications also require ruggedness and the ability to operate  in extreme temperatures, adverse weather and other severe environments.
Moog has leveraged its unique expertise and core building block products designed for demanding applications to provide optimized control solutions to researchers, designers and manufacturers of mobile robotics. With proven solutions in the oil exploration, subsea, aerospace and motorsports industries, Moog specializes in fully customized solutions in an optimized, compact size that perform reliably in extreme environments for a long service life. 
Micro Hydraulics for a Quadruped Robot
Moog works with the Istituto Italiano di Tecnologia (IIT) to provide micro hydraulic solution for the HyQ Real Robot, a bio-inspired quadruped robot designed to help humans in emergency situations such as rescue operations in dangerous areas.  This robot can jump, walk on a rocky trail, move along a corridor with V-shaped slanted sides, run at different speed and adjust its speed in response to different environments.  As a battery-powered autonomous robot, it was important to keep the solution small and lightweight. 
Hydraulic actuators bring the power to the HyQReal quadruped robot 
Mobile Robotics for On-site Digital Fabrication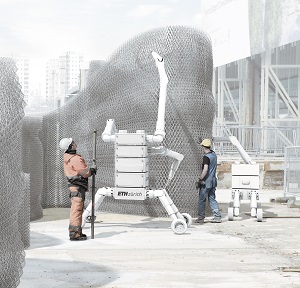 Digital fabrication, on site, enabled by robotic fabricators, will allow architects to create buildings in a new way, allowing new shapes, higher functional integration, and better material efficiency. The on-site digital fabrication field is one of the unstructured environments where human scale robots offer many advantages, but this application also presents many challenges such as ensuring humans can safely work in the same space as the robot.  Our solutions include core building block products that our engineers apply to optimize control, provide a higher level of safety and increase productivity of operations. Our family of state-of-the-art microhydraulic products that provide lightweight, power-dense actuation, leveraging additive manufacturing.
Image Source: Source: Source: Gramazio Kohler Research,  NCCR Digital Fabrication
Integrated Smart Actuator (ISA) for Robotics Systems
Integrated Solutions in the Optimized Package Size
Moog's new integrated, plug and play solution called the Integrated Smart Actuator (ISA) includes integrated servo valves, control electronics, fieldbus communications (EtherCAT and CANbus), and on-board sensors. Moog is now leveraging advances in additive manufacturing to optimize weight and size while also offering the capability to provide customizable solutions quickly and affordably. 
Advantages of Integrated Smart Actuators
Fully integrated actuator, servo valve, sensor and controller for an optimized lightweight, compact plug-and-play system for easy incorporation into your latest designs
High power to weight ratio and efficiency for longer operation on battery powered mobile robotic application
High dynamics and precise force control provides better overall system control for enhanced responsiveness and a higher level of safety for challenging robotic applications                                          
Robust, proven hardware for reliable operation even in extreme environments
Family of Micro-Hydraulic Products
Integrated Smart Actuator
Contact Us
Burkhard Erne
berne@moog.com
Phone: +41 79 261 32 92

Applications
Robotics for Unstructured Environments
Digital On-site Fabrication
Human-Scale Robotics
Medical, including Rehabilitation, Orthotics and Prosthetics
Mobile Robotics including Construction
Collaborative Robotics
Quadrupeds

Humanoid and Biomimetic
Exo-Skeletons
Tele-operation
Haptics
Virtual Reality, Simulation and Training
Autonomous Vehicles