Kinematics and Compliance Testing (K&C)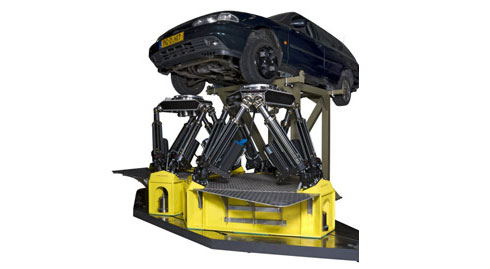 Moog's Kinematics and Compliance (K&C) Test System helps evaluate kinematics properties resulting from suspension and steering lay-out and compliance properties resulting from springs, anti-roll bars, bushings and other components.

Products
A two-corner measurement system that features two hexapods to control the wheel motion and a steering wheel actuator. Uses an integrated software tool to control the tests, acquire measurement data and to analyze the data.
Proven Solution
The Moog K&C Test System is used at a major OEM's site in Asia Pacific for design verification and the vehicle development process. Due to fast test set-up and immediate results it is valuable for quickly assessing design and component changes.
What is Kinematics and Compliance (K&C) Testing?
Kinematics and Compliance (K&C) Testing is used to determine the suspension characteristics that are essential for the vehicle's ride and handling properties by applying controlled forces and displacements.