In this article:
Moog promotes innovation through its corporate culture and measures it with a process called InnoScore
InnoScore trends shows diversity in the source of ideas and common characteristics of individuals who participate
Simodont Dental Trainer is a success story of how using Haptics technology improves training of dental students around the word
Moog Uses the InnoScore Process to Reward Innovative Products and Solutions
How do you create a corporate culture that not only encourages innovation, but rewards it too? First, you offer engineers, product development professionals and market development managers the chance to showcase their ideas. Then, you score the ideas using a proven system of metrics. Finally, you commemorate the best idea with a prestigious award.
Since the mid 1980s, Moog has adhered to this process with tremendous results for its global industrial business. In 2011, the Moog Innovation Prize was awarded to the Moog Simodont Dental Trainer, a virtual reality simulator that borrows high fidelity flight simulation technologies to help train dental students in a more realistic, more cost-effective fashion. As more companies strive to find new uses for technology and commercialize their R&D efforts into new business, this success story may offer some helpful insights.
How to Assess Innovation?
What is Innovation?

We define Innovation as the creation of new, better or more effective products and solutions which results in an obvious advantage for the customer.
To reward innovation, it is necessary to measure it and assess trends. Moog uses the InnoScore process as an indicator of innovation in the Control Solutions Group and to provide a longer term assssment of trends. Some guidelines in the Innoscore process include:
Must be based on an idea which is not obvious.
Must have impact - an idea combined with a customer need and acceptance from the market results in an innovation
Must result in advantage to the customer - such as better performance, higher accuracy, reduced cost, greater reliability, better maintainability, lower weight, reduced ecological impact, more compact form or other similar attributes.
Description of the InnoScore Process
At the end of each fiscal year, each Moog market development team nominates a solution or  product that must fulfil three fundamental requirements:
The innovation applied to a product or solution must be new and be accepted by Moog sales and customers (this score is weighted at 50%). For example, it must be in the sales forecast for the first time that year and must offer the potential for obvious sales growth.
It must offer clear differentiation over existing products and must have clear advantages for the customer compared to former solutions (this score is weighted at 25%).
It must not be obvious how it is done and not easily copied. Highest rating is achieved when patents are applied (this score is weighted at 25%).
An innovation can be nominated by the members of the business development organization to the ten-member Moog innovation board which represents engineering, program management and market development.
Driving Innovation
Since 1986, a total of 91 products or solutions have achieved been nominated and scored. The highest possible rating in each category is 8.

InnoScore graph showing the consolidated Innovation scores and a 10 years
floating average to illustrate the longer term trend
The technologies, the type of innovation and the source for the ideas are highly diverse. It includes solutions and products ranging from new controls and sensor concepts to electrical and hydraulic products to complete turnkey machine solutions. Some  innovations have required very high investment and long schedules while others have achieved good scores in a short time frame with very low budgets. The source for the ideas in many cases came from discussion with customers about their needs. Ideas were generated by employees at all levels in sales, business development, engineering and marketing. Even with this diversity, there are some key takeaways from all the innovative solutions which are scored:. For example:
Moog employees are open to new ideas and willing to take a risk.
All scored innovations have contributed to Moog's ongoing success and growth
Innovation has helped Moog to develop the types of high performance solutions for which we are known in the marketplace
Simply put, the culture of Moog encourages creativity and provides the necessary tools and motivation required for widespread innovation.
2011 InnoScore Winner - The Moog Simodont Dental Trainer
When analyzing the results of the InnoScore program, a good example is the Moog Simodont Dental Trainer innovation which achieved the maximum triple 8 scoring.  This innovation helped create a completely new business segment for Moog that is now growing worldwide.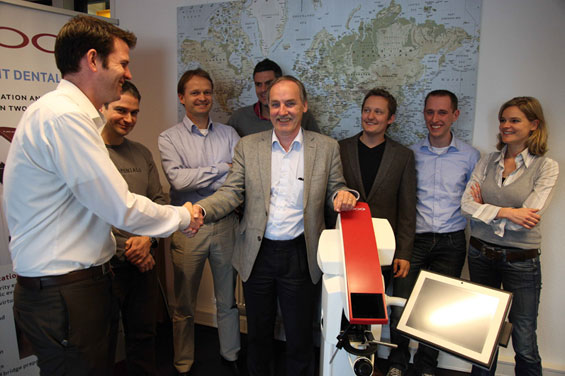 Will Opie, European Market Development Manager, Simulation congratulates Dental Trainer Team
The development of the Moog Simodont Dental Trainer was initiated in 2007 from a request from the Dental University in Amsterdam (ACTA). The requirement was to develop a virtual reality training simulator that could bridge the gap between training on plastic teeth and treating a real patient. This meant that realistic 3D images of teeth were required as well as the ability to generate a realistic virtual drilling feel. A partnership was formed between ACTA and Moog where ACTA provided the knowledge of dentistry and dental education and Moog offered expertise in haptics simulation technology. The end result is a dental trainer that truly meets the needs of dental education and has created a new paradigm in realistic training.
Motion Control Challenges in the Dental Trainer
You may have never thought about what skills are required for a good dentist, but development of hand skills in complex scenarios is essential. Currently schools use a type of simulated training called phantom heads and plastic teeth for training. Unfortunately, many found this is not a substitute for working on a real patient as the feel of performing a treatment was not the same.
What is Haptics?

Haptics is the science of creating a realistic sense of touch to the user in a virtual environment.
To help the dental student obtain these skills in a virtual way, it is critical that the training system  generates the precise sense of touch in a simulator. This involves applying haptics technology. In some ways, it is a similar problem to teaching a pilot to fly a plane using a simulator that provides a training experience so real that it counts as training hours. In fact, the basis of haptic technology within Moog originates from the company's expertise with flight simulators and control loading technologies.  An instrumental tool in this process was the Haptic Master technology demonstrator,  a 3-degree of freedom force controlled technology demonstrator  used to demonstrate Moog's technical capabilities and help customers develop new applications requiring haptic feedback.
In engineering the dental trainer, significant technical challenges had to be overcome:
A realistic co-located 3D visual representation of a tooth with sufficient resolution and intensity of light needed to be developed. No standard solution was available and stereo projection on a mirror had been used. Tooth models with realistic density modelling and realistic colouring had been developed from CT scans but existing tooth models around the globe were not meeting the requirements.
The mechanical design needed to be stiff but provide frictionless force control with a high dynamic range and low inertia
The design had to provide a large range of movement, but not interfere with the user.
The Solution
For such a large innovation, only very basic initial specifications can be defined. This development was completed in iterative steps using a total of seven prototypes that were evaluated by teachers, students and Moog engineers on multiple aspects. This resulted in a more detailed specification allowing different implementations to be tested and compared.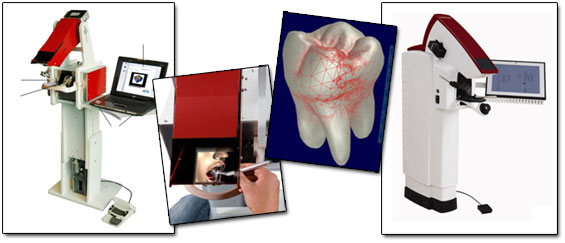 Proto types and resulting DentalTrainer
The result is a product with unique advantages over conventional training as the feel is much more realistic and it uses true size 3D images. The student's performance can be measured in great detail and the system allows for objective comparison of the student's individual results. Mistakes can easily be corrected by stepping back in the simulator and immediately repeating part of a procedure. This is not possible on plastic teeth and certainly not when treating a real patient.
No other simulator in the market currently supports these features so it is a truly unique result. A Moog patent is pending on the mechanical design in combination with the integration of graphical collision detection in the force control loop.
The Results
The experience up to now indicates that students can use their time about three times more efficiently and can also practice much more independently without the need of a teacher. This provides a lower cost of ownership, especially in combination with elimination of real dental tools (e.g. diamond burrs and handpieces).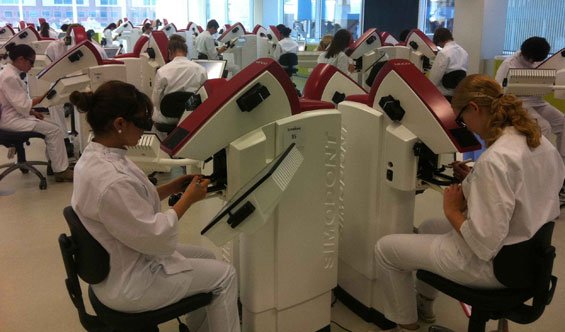 Usage at ACTA Dental University
The system is now in use at ACTA and is being  introduced in more than ten other schools around the world. The number of dental procedures that it can support is continuously being expanded. The business volume in the Haptic Technology Group has grown in the first year after introduction with several new customers and the future is promising with several renowned universities in Europe, Asia Pacific and Americas showing interest in the system.
The next steps considered by Moog are to deepen the content of the procedures to provide further support to the needs of these regional schools. Other medical simulation and training applications are also being considered, where similar needs are present and the technology can be reused and refined. Here the market potential is also very significant and current training methods are expensive and time consuming. Lastly, enabling good training of dental and medical procedures will have a significant impact on improving patient safety.  Commercialization of an innovation like this relies upon a strong team, a great partnership with industry experts and the support of a company culture that encourages and rewards innovation.
Authors
Bernd Stehlin, the Market Manager Defence Controls Europe and a Member of the Moog Control Solutions Innovation Board, has worked 29 years for Moog in different Engineering, Business Development and Management roles. Has a Masters (Dipl. Ing) in Mechanical and Control Engineering. He is also the Inventor and Co-Inventor of several Moog Patents in Motion Controls technology.
Karel van Gelder, the Business Development Manager for Medical Simulation and Training is responsible for helping Moog to enter the Medical Simulation and Rehabilitation Markets. He has worked at Moog for 15 years in different roles from Project Management to management of Product Development to Business Development. Karel holds a Masters Degree in Electrical and Control Engineering.