Windpower Conference 2012
31 May 2012
Moog Industrial Group will bring its high performance technologies for controlling and monitoring wind turbine blades to the Windpower 2012 Conference and Exhibition in Atlanta, Ga., June 3 – 6, 2012, to help wind turbine makers and operators boost reliability, safety and efficiency.
At the Georgia World Congress Center, Hall A, Booth 2511, Moog experts will showcase electric pitch control systems for controlling the angle of inclination of a wind turbine's blades. Moog's array of hardware, software and services also includesblade sensing systems, rotor monitoring systems, slip rings and global training and services.
Moog has supplied more than 27,000 systems and products to many of the world's top ten wind turbine manufacturers. The company's wind industry products and expertise span both electric and hydraulic technologies. Moog's wind industry experts will explain how using the company's systems on today's wind turbines can reduce maintenance, improve safety and boost efficiency. For example, by precisely monitoring wind loads on blades, the rotor monitoring system improves the turbine's life span and maintenance costs. Predictive maintenance is vital to wind park operators because the cost of a shutdown and subsequent turbine repairs is high.
Moog Pitch Systems also improve safety when the wind turbine loses electrical power. The pitch system puts the turbine blades off-wind into a safe operating mode that protects the wind turbine from damage. When the wind blows at 25 meters per second (50 mph) or higher, a wind turbine needs a failsafe to put its blades at an angle where the load is reduced and the wind turbine stops.
Found in the hub of the wind turbine, the Moog Pitch System consists of control boxes containing Moog Pitch Servo Drives; Wind Pitch Servo Motors; and, a control system including software for remote diagnostics and back-up power.
Moog also offers slip ring solutions, which are critical to operation. Found inside the wind turbine's nacelle, Moog's slip rings provide electrical signals and energy for blade pitch power and control. Moog's fiber brush slip rings offer wind turbine owners a minimum of 100 million revolutions of operational life with no maintenance.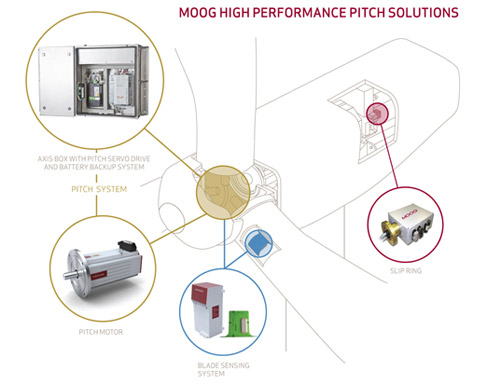 Photo Caption: Moog high performance wind energy solutions at AWEA Windpower Conference and Exhibition 2012
For a short animation of the how the system works please visityoutu.be/qk6ZKGLSdEI