Hindustan Aeronautics Selects Moog Test Controllers for Helicopter Component Testing
24 September 2012

New digital test controllers to replace analog controllers in the Rotary Wing Research and Design Center in Bangalore, India

Moog Industrial Group announced today that the company has been awarded a contract to supply a substantial number of Portable Test Controllers with a single channel to Hindustan Aeronautics Limited (HAL). The test equipment will be deployed for helicopter component testing in HAL's Rotary Wing Research and Design Center in Bangalore, India. The tests that will be performed with the new test controllers include fatigue and endurance tests on rotor blades, flight controls and transmission systems.
The digital portable test controllers supplied to HAL offers the following significant advantages:
Can be operated standalone directly through the display and operating panel, eliminating the need for test software and a PC
Incorporates a unique control-loop technology for high performance control of force, displacement and acceleration
Users can plug the controller and run with or without external test software, making this an ideal solution for easy replacement or an upgrade to digital control.
The Portable Test Controllers also feature a large full 640x480 VGA color display to monitor tests and allow operators to set-up and make simple adjustments in between tests or in real time. Additionally, the user can reproduce tests and store test data on the onboard hard disk. The test controllers can accommodate a maximum of four channels for future expansion and can enable manual control, constant amplitude tests and high performance handling of complex testing formulas.
"We are pleased that HAL's Rotary Wing Research and Design Center has chosen Moog to replace analog controllers with digital Moog Portable Test Controllers. We are certain that this investment will strengthen HAL's ongoing R&D programs for helicopter systems," said K.M.Sathish,sales manager, Moog.
Moog also supplies test controllers that can handle up to 500 control channels. Their flexibility -and high performance handling of complex testing formulas utilizing proprietary software are particularly suited for advanced aerospace testing. Moog provides servo controllers that run structural tests (static and dynamic) ranging from complete aircraft and sub-assemblies to components.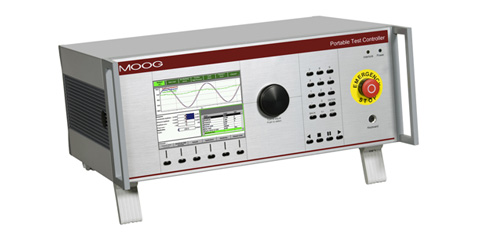 Photo Caption: Moog Portable Test Controller