Leading event will focus on the latest technology in automotive testing, evaluation and quality engineering
21 May 2012
Moog Industrial Group will showcase its comprehensive range of test systems at theAutomotive Testing Expo Europe in Stuttgart, June 12-14 2012.
Visitors to the Moog stand (hall 1, stand 1624) will learn about Moog's wide range of automotive testing equipment and systems that include Electric and Hydraulic Simulation Tables, Tire Coupled Simulation Systems, Suspension Test Systems,Actuators, Servo Valves and Test Controllers. Moog experts will help visitors understand how these systems can be leveraged by automotive and component manufacturers to bring-to-market innovative and high quality products.
Additionally, Moog's Integrated Test Suite Software linked to the Portable Test Controller and the Modular Test Controller will be demonstrated. Moog's test solutions are based on the concept of the flexibility to 'Test it your way'. The Integrated Test Suite software can accommodate the simplest and most complex tests thanks to its unique architecture. The software can adapt to the test requirements of users through the availability of extra modules as operator expertise develops.
During the show's Open Technology Forums, Moog senior test application engineer, Mr. Erik Kuiper is to deliver a presentation entitled, "Drive innovation and integration in your test research with Moog motion control technologies." The presentation will focus on how Moog's Hydraulic Simulation Tables enable automotive test labs to evaluate the performance of vehicle components, such as electric car batteries. The presentation will further focus on the latest driving simulator technology based on electric motion systems that enable automotive manufacturers to test current and future vehicle designs, to assess vehicle dynamics with expert drivers and in motorsport to train new drivers. The presentations will take place on June 12, 11.00h at the Vehicle Dynamics Expo and June 14, 12.20h at the Automotive Testing Expo.
For more information, visit the Moog team at Stand 1624, Hall 1.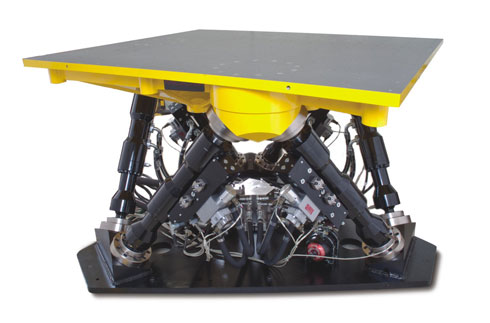 Caption: Moog Hydraulic Simulation Table