Moog Introduces Next Generation Technology for Motion Bases Used for Full Flight Simulation
3 December 2012
At I/ITSEC 2012 in Orlando, Fla., Moog Industrial Group will display its next generation motion control technology  in motion bases used for flight simulation training.
Moog technology that will be showcased at I/ITSEC includes motion bases, g-seatsand control loading systems used in full flight simulation systems.  Moog Electric Motion Bases were the first to attain the highest level certification, Level D, by the U.S. Federal Aviation Authority (FAA). Level D is based on the evaluation of the performance of a simulator in relation to an actual aircraft and it enables pilots to do all of their training on a full flight simulator and accumulate the requisite hours needed to qualify for a flight license.
During the last year, Moog engineers and customers have worked together to boost the capabilities of the software and actuators in Moog Motion Base Systems. "The result is easier commissioning, maximized up-time, streamlined troubleshooting and higher reliability," said Tobe Ehmann, product application manager for simulation at Moog.
New features in Moog electric motion bases for full flight simulation include:
Improved diagnostic capabilities through updated system architecture
Ether CAT , the latest fieldbus system,  improves uptime
Re-designed Graphical User Interface (GUI) helps to simplify the commissioning of the motion system
100% digital encoder interface ensures higher reliability of operation
Bi-directional nitrogen-free, snubber design in the actuator provides higher safety, quieter operation and requires less maintenance
The Moog Electric Six Degrees of Freedom (6DOF) Motion Base features six sealed actuators with brushless servo motors and new oil-free snubber technology that provides longer life, reduced vibration and less acoustic noise. Longer life and smoother operation for a motion system is critical, as training simulators are typically operating around the clock in facilities used for training. The motion base's bi-directional, oil-free snubbers suppress excess force, providing lower expected maintenance and greater uptime.
"Even though we've improved and fine-tuned our technology, we've retained the same form factor as previous designs, including the motion base's mechanical interface, in order to provide for easier installation," said Pete Zakrzewski, chief engineer, Simulation for Moog. "A customer can now select a Moog motion system model with a slightly higher payload while staying within the mechanical footprint of the older version, enabling higher performance while requiring no additional space."
The Graphical User Interface (GUI) for controlling the motion base system has been redesigned to include new navigation and modules for commissioning and troubleshooting. This web-based GUI allows support of multiple client versions because the application is coming directly from the server. This reduces the opportunity for human error and saves time as the user does not to need to install the software. It also eliminates the need for customers to manage different versions of the clients on their servers and ensures the latest version will always be available to use.
Moog technology is in booth #2511 at the Orange County Convention Center.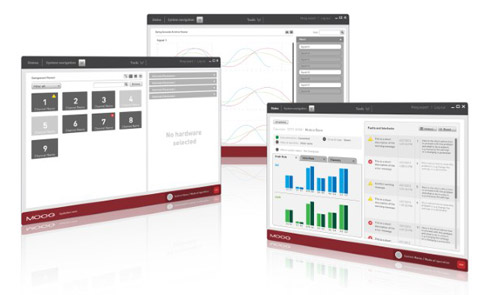 Caption: New Moog Graphical User Interface (GUI) helps to simplify commissioning and diagnostics for the motion base of full flight simulators
Media Contact - Inquiries Only