Moog to Showcase Advanced Test Solutions at the Automotive Testing Expo China 2012
6 September 2012
Moog Industrial Group will bring its innovative, leading-edge durability and performance test solutions to the Automotive Testing Expo China 2012 in Shanghai. Focused on the technologies and services involved in automotive testing and quality engineering, the Expo will be held at the Shanghai Ever Bright Convention & Exhibition Center from September 18 to 20, 2012. The 81-m2 (872 sq.ft.) Moog Booth will be at No. 4076 in the West Hall on the first floor.
During the Expo, Moog will exhibit both the electric and hydraulic solutions it offers to test professionals around the world. "Facing an environment that dramatically changes every year, today's test engineers have new and demanding test applications that require new solutions, high-performance equipment and more innovative approaches," said Tom Pierce, business development director, Simulation & Test, Moog Asia Pacific. "At this event, Chinese test professionals will be able to discover how Moog's proven expertise combined with the world-class performance of our Test Systems, Test Software, Simulation Tables, Test Controllers and Software, Servo Valves and Test Actuators can improve their competitiveness by helping them find new and better ways of performing automotive tests."
Among a full range of exhibits from Moog, a full scale Hydraulic Simulation Tablewill show the latest technology available in the marketplace. Providing a full six degrees of freedom (6 DOF), the Simulation Table is used to simulate acceleration and displacement outputs and reproduce key data collected on proving grounds. The system is designed for the world's most demanding test lab environments and also helps reduce overall facilities costs by taking up less than half the space of conventional shaker tables.
In addition to leading products showcased at the booth, Moog will also share its experiences and insights on automotive tests through a Moog Technology Workshop entitled "Integration in Your Test Research with Moog Motion Control Technologies." Moog engineers will introduce its newest solutions on September 19 from 10 am to 12 pm in the Open Technology Studio and explain how these solutions can benefit customers with more accurate testing, quicker set-up and improved test speed, best price/performance ratio and savings on development time and costs.

Moog Industrial Group, as a major supplier of durability and performance test solutions, delivers flexible, innovative and trusted solutions to test professionals around the world. It provides advanced durability solutions, such as Multi-Axis Test System, Simulation Tables and Tire Coupled Simulation Systems and also advanced performance solutions, such as Driving Simulators, Suspension Test Rigs, Kinematics and Compliance Test Systems and Ride and Comfort Test Systems.
For more information, please visit the Moog's Booth at Shanghai Ever Bright Convention & Exhibition Center at booth 4076 or visit us at www.moog.com orwww.moog.com.cn/chinese/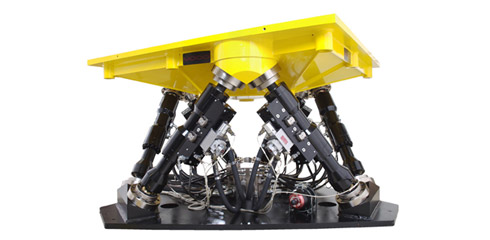 Photo Caption: 6 DOF Hydraulic Simulation Table
Media Contact - Inquiries Only