Unison Selects Moog Servo Motors and Planetary Roller Screws for its Tube Bending Machines
17 April 2012
Moog Industrial Group, a leader in providing high performance motion control components and systems to the industrial production machinery sector, announced today that Unison, a global technology company delivering all-electric tube bending machine in sectors as diverse as aerospace, marine, automotive and manufacturing selected Moog Brushless Servo Motors and Planetary Roller Screws for a new order to sustain its rapidly expanding business needs.
Based in Scarborough, England, Unison is the only UK-based 'all electric' tube bending machine OEM. Since its creation in 1973, the Company has established a reputation as a world leader in tube bending systems technology. Unison designed, developed, built and patented the first 'all electric' tube bending machines.
With ambitions to be the number one throughout the world in its market, Unison wanted to build more machines. To do this effectively, the company needed a supplier who could not only supply high-quality, high- performance products, but also deliver reliably and on time.
Unison selected Moog repeatedly for the supply of Brushless Servo Motors and Planetary Roller Screws¹ and subsequently the two companies established a strong relationship. Thanks to its ability to understand Unison's unique requirements and its superior supply capabilities, Moog has enabled Unison to not only build more machines, but also shorten its lead times.
The company now produces a range of tube bending machines, for tubing diameters from 4 to 220 mm (0.157 in to 8.66 in). It also supplies custom designs and builds complete production cells for high-volume, high-speed manufacturing. With a global customer base, it has ambitions not only to build more machines, but also to widen its global reach.
Alan Pickering, managing director at Unison explains: "Our rapidly expanding business required a global supplier who could not only deliver our key components on time, but was also prepared to work with us to understand our needs and build long-term relations."
Servo Motors and Planetary Roller Screws are vital elements in Unison's machine architecture and, as such, they must meet stringent requirements, no matter where the machines are installed. For over two decades Moog has been associated withServo Drives and Brushless Servo Motors offering the highest dynamics, power density and reliability. Today, Moog offers three types of brushless motors: Maximum Dynamic (MD), Compact Dynamic (CD) and Explosion Proof; all of which are available in a variety of standard and customized options to address the unique requirements of customer applications.
Moog Planetary Roller Screws, developed to meet the needs of leading-edge machine manufacturers, cover a wide range of static and dynamic loads, with high accelerations to enable fast duty cycles. Customized designs are available to meet the requirements of the most challenging applications.
Steve Darnell, regional business manager at Moog in Tewkesbury elaborates on the relationship developed with Unison: "Through detailed questioning, we jointly developed an understanding of the logistical and supply chain issues which challenged Unison's growth plans. Together, we developed a strategy to alleviate these issues; part of which was adapting and strengthening our supply chain to meet Unison's exact need."
Unison is now experiencing its best ever sales and is working with Moog to find other ways to reduce lead times for customers.  Pickering concludes: "The team at Moog worked with us to reduce lead times, enabling us to build more machines per year and, going forwards, is prepared to help us to further improve our machine efficiency. We are now more competitive in the market and use products that require less energy, while future proofing our machines. Our expectations of Moog have been successfully addressed, both in terms of global support and the reliability of its hardware."
Global expansion is a major challenge for many companies as they seek to develop new markets and exploit new revenue streams. With service and supply being just as important as the parts themselves, it is vital that these companies can call upon the global expertise and local capabilities of leading technology suppliers. With Moog's global footprint covering many established and developing markets, Moog can supply and service at a local level, no matter where the technology is ultimately deployed.
 
About Unison
Unison is a world leader in all-electric tube bending and is widely regarded as one of the industry's major innovators. The company's extensive Breeze range of tube bending machines accommodates all types of tubing materials, from mild steel to exotic alloys, and includes single-head and twin-head machines covering tube diameters from 4 to 220 mm (0.157 in to 8.66 in).Recent extensions to the range include a rotating head machine that can perform right- and left-hand bending in one continuous cycle, and a machine that features a fully integrated cutter to facilitate automated single-step manufacturing of volume parts. All-electric tube bending machines combine the highest operational efficiency with flexible, high-accuracy digital motion control, and have now become the machine of choice for many companies in sectors as diverse as aerospace, marine and automotive through to furniture. www.unisonltd.com
Note to Editors:
Planetary Roller Screws¹ transform rotary to linear motion using a rolling element system consisting of a threaded shaft (screw) and nut assembly. The nut contains a determined number of threaded rollers that orbit in a planetary motion about the axis of the screw.  The roller engages its threads with the screw and the nut with multiple contact points, providing high load capacity, rigidity, speed and acceleration.
Photos
Caption: A Unison Tube Bending Machine contains between 10 and 16 Moog Brushless Servo Motors (shown in red) and up to 2 Roller Screws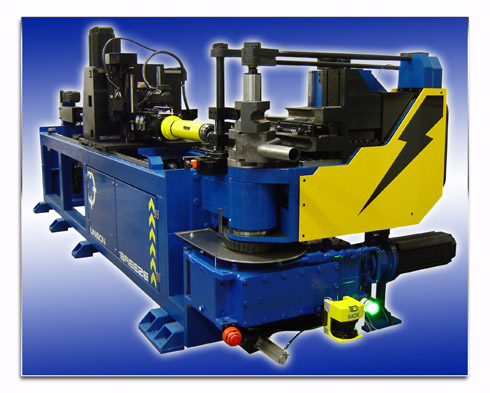 Caption: A Unison Tube Bending Machine contains between 10 and 16 Moog Brushless Servo Motors and up to 2 Roller Screws