HelpMeSee Celebrates World Sight Day by Successfully Testing Leading Edge Virtual Cataract Eye Surgery Simulator
10 October 2013

Manual Small Incision Cataract Surgical Simulator Proof of Concept Evidences Success

New York, NY, USA  – In recognition of World Sight Day, HelpMeSee – global campaign to eliminate cataract blindness  – and Moog – a worldwide designer, manufacturer and integrator of precision control components and systems – have achieved a significant milestone in eye surgery simulation by successfully demonstrating the capabilities of the world's first MSICS (Manual Small Incision Cataract Surgery) virtual reality surgical training simulator.
Several eminent expert ophthalmologists from China, France, Tunisia, the Netherlands, and the United States of America participated in the demonstration as a lead-up to the XXXI Congress ESCRS (European Society of Cataract & Refractive Surgeons) conference held in Amsterdam last week. Dr. Glenn Strauss, Chief Medical Officer for HelpMeSee, led the demonstration and briefed the group of eminent ophthalmic surgeons including Dr. Jean-Marie Andre of the Marseille Medical School in Ophthalmology.
"This is a major milestone in our strategy to treat and prevent cataract blindness globally," said Dr. Strauss. "When completed, this simulation technology, coupled with sophisticated courseware and a comprehensive training curriculum, will provide the capacity to rapidly scale up the training of highly skilled MSICS specialist to treat the millions of cataract blind living in the developing world. HelpMeSee, our donors and friends are committed to eliminating cataract blindness through innovative training and simulation technologies developed and adapted from commercial pilot training. The developing world requires 30,000 cataract specialists which is our goal."
Moog was selected to jointly design and manufacture the simulator. Moog Industrial Group, designs and manufactures high performance motion control solutions in a range of industrial applications including simulation for aviation, medical and dental training.
"The eye surgery simulator definitely represents a new and viable way to train future surgeons. More than that, I see it as a huge leap forward in terms of ethics as finally surgeons can train without exposing patients. In essence, the eye surgery simulator brings virtual reality to students," said Dr. Andre. "They can now practice and repeat the procedure or a specific step of it as many times as required until perfect. Virtual reality has the power to essentially provide the advantages of reality as the eye is there, as we need it, no patient is endangered. This to me represents a great way to train more surgeons to operate on cataract patients."
In the hands of a skilled specialist, the MSICS procedure is quick and extremely cost effective with excellent post-operative results comparable to more costly procedures.  In less than 2 years, through the financial support of HelpMeSee donors, 93 partner surgeons have performed more than 70,000 cataract surgeries and are on track to complete 100,000 through 2013.  
James Ueltschi, Chairman and co-founder of HelpMeSee, remarked, "We proved at FlightSafety International that simulators can be used to train thousands of pilots every year. We strongly believe that this principle can apply to cataract specialists as well. We are very confident we can solve the problem of global blindness due to cataracts through this approach."
Seán Gartland, President, Moog Industrial Group commented: "This project is a great opportunity to combine HelpMeSee and Moog's extensive and highly complementary expertise. We bring our strong engineering capability to provide simulator systems and high level haptic force feedback. Our long-term experience and success in providing systems for flight simulators has enabled unsurpassed levels of performance, fidelity and reliability. More recently, our experience in developing the Simodont Dental Trainer confirmed the increasingly key role that haptics can play in medical simulation and we are excited to support efforts that help grow this industry. We are proud to support the noble cause underlying the HelpMeSee Campaign."
About Moog
Moog Inc. is a worldwide designer, manufacturer and integrator of precision control components and systems. Moog Industrial Group designs and manufactures high performance motion control solutions combining electric, hydraulic, and hybrid technologies with expert consultative support in a range of applications in energy, industrial automation, simulation and test. We help performance-driven companies design and develop their next-generation equipment. Moog's Industrial Group, with fiscal year 2012 sales of USD 634 million and over 40 locations worldwide, is part of Moog Inc. (NYSE:MOG.A and MOG.B), which has sales of USD 2.47 billion. For more information please visit www.moog.com/industrial.
About HelpMeSee
HelpMeSee (www.HelpMeSee.org) is a not-for-profit global campaign to eliminate cataract blindness endemic in developing countries.  HelpMeSee intends to make the sight-restoring surgery available to millions of poor through financial support and the training of thousands of highly skilled MSICS specialists recruited from within their communities. HelpMeSee is pioneering a virtual reality surgical simulator and training program to be implemented worldwide, adapted from extensive experience in simulator based aviation training.
Video
Watch a short video about the MSICS (manual small incision cataract surgery) virtual reality surgical training simulator 
Photo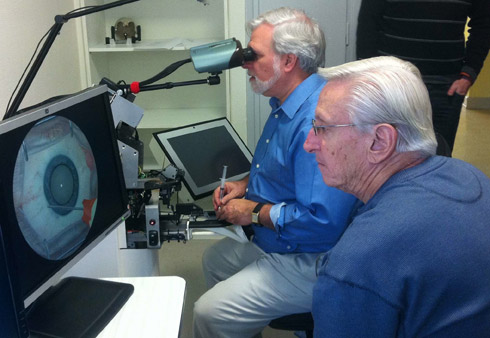 Caption: HelpMeSee simulator development team, Dr. M. Glenn Strauss, Chief Medical Officer, and Dennis Gulasy, Director of Engineering and Simulation Systems evaluate the Prototype (proof of concept) of HelpMeSee MSICS Eye Surgery Simulator by Moog (Photo courtesy of HelpMeSee)
Media Contact - Inquiries Only