Moog Showcases Electric and Hydraulic Simulation Tables at the Automotive Testing Expo Europe 2013, Stuttgart
16 May 2013
Moog Industrial Group will showcase its comprehensive range of test systems, including the Electric and Hydraulic Simulation Table at the Automotive Testing Expo Europe in Stuttgart, June 4-6 2013.
Among a full range of exhibits at the Moog stand (hall 1, stand 1624), a full scale Hydraulic Simulation Table will show the latest technology available in the marketplace. Providing a full six degrees of freedom (6 DOF), the High Frequency Simulation Table is used to simulate acceleration and displacement outputs and reproduce key data collected on proving grounds. The system has already proved its high frequency capabilities and accuracy for the world's most demanding test lab environments. The system enables high performance testing and also helps reduce overall facilities costs by taking up less than half the space of conventional shaker tables.
Visitors to the Moog stand will further learn about Moog's wide range of automotive testing equipment and systems that include Electric Simulation Tables, Tire Coupled Simulation Systems, Electric and Hydraulic Actuators, Servo Valves, Test Controllers and Test Software for multi-axis test systems. Moog experts will help visitors understand how these systems can be leveraged by automotive and component manufacturers to develop innovative and high quality products.
During the show's Open Technology Forum, Moog Engineer Manager Test Systems, Mr. Worm is to deliver a presentation titled, "The role of Moog in vehicle development with Moog's structural and performance test solutions: from simulation tables to driving simulators." The presentation will describe how high-performance hydraulic and electric simulation tables enable test labs to perform research and development tests with regard to the durability and functionality of vehicle components such as fuel tanks and electric car batteries, an important aspect in the development of new electric car models. The presentation will further focus on how Moog driving simulators simulate road conditions and are used to reduce the design and development time of car parts, accessories, bodies and complete models. The presentations will take place in hall 1 on Tuesday June 5th at 12.10 and 16.25 at the technology forums of the automotive testing expo and vehicle dynamics expo.
For more information, visit the Moog team at Stand 1624, Hall 1.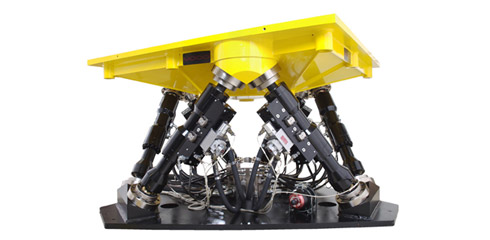 Photo caption
Moog Hydraulic Simulation table offers vector-based motion and an expanded frequency range up to 100 Hz to increase testing speed and flexibility