Moog Australia Celebrates 35th Anniversary and New Facility
4 December 2014
Melbourne, Australia —Moog Australia Pty Ltd., a wholly owned Australian subsidiary of Moog Inc. celebrates the 35th anniversary of its establishment on November 7th 1979 and relocation to a new facility.
Moog Australia develops, manufactures, distributes and services Moog products from two locations in Australia at Melbourne and Sydney. It is also the key development centre for Moog's operations in Australia and New Zealand, possessing unique engineering capabilities for motion control and actuation solutions, particularly for gas and steam turbines, simulation, mining and defence equipment.
As part of Moog's ongoing commitment to the Australian market, it has relocated to a new facility in Melbourne's Heatherton area to enhance customer service and support its aggressive growth strategy. The new facility commenced business on November 7, 2014 on the 35th anniversary of Moog's incorporation in Australia.
The new facility, which also serves as the headquarters for Moog's Australia and New Zealand operations, is fundamental to Moog's strategy for growth and diversification over the next few years. It has been designed to provide an open and friendly workplace environment where professionals can display their abilities to the fullest, enabling Moog to deliver on its brand promise of motion control excellence to customers. Specifically, the facility features:
 (1)  Optimized lean layout
(2)  Leading-edge production facilities
(3)  Cutting-edge training facilities
(4)  Specialised engineering laboratory
(5)  Open office layout to promote communication
(6)  State-of-the-art conference room facility
(7)  Product solution display area
Corporate Information
Company Name:          Moog Australia Pty Ltd.
Established:      November 7, 1979
General Manager: Bryan O'Connor
Employees:       20
Headquarters:  18 Corporate Drive, Heatherton 3202, Victoria, Australia
Floor space:    2100 m2 (2512 yd2)
Telephone:       +61 (3) 8545-2106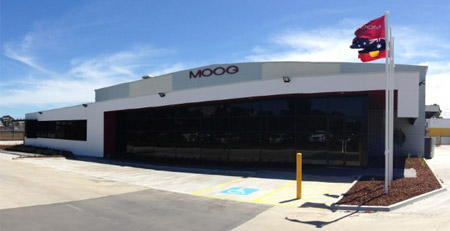 Image caption: Moog Australia Melbourne Headquarters