Moog Weapon Stores Management System Proves Successful on Textron AirLands Scorpion Jet
Orlando, Fla., 17 November 2016
Capability Exercise includes three weapon types tested at White Sands Missile Range
Moog Inc. (NYSE: MOG.A and MOG.B) Space and Defense Group's (SDG) Integrated Defense Systems (IDS), as an integral supplier to the Scorpion jet, supported Textron AirLand's live fire weapon capabilities testing at White Sands Missile Range from October 10-14. Onboard the Scorpion during its first weapons exercise, Moog's Third Generation Weapon Stores Management System (SMS) is a weapon controller that is fully integrated with L-3 ForceX Widow® for the interface with targeting sensors, operator stations and command-and-control systems. The Scorpion jet's SMS includes a Moog Stores Management Computer (SMC) and Stores Interface Units (SIU).
Throughout the testing, the Moog SMS interfaced with the following weapons to ensure seamless communication between operator commands through weapon target acquisition:
·         Hydra-70 unguided 2.75-inch rockets
·         BAE Systems' Advanced Precision Kill Weapon System (APKWS)
·         AGM-114F HELLFIRE® missiles
The weapons system design, integration and flight test coordination for all three weapon types were achieved in less than three months. The weapons testing program occurred in coordination with the Naval Sea Systems Command (NAVSEA) organization and the 586th Flight Test Squadron from Holloman Air Force Base (HAFB). All weapon types performed flawlessly through all test profiles.
"Moog is proud to be a part of the Scorpion jet and to have contributed to the success of the aircraft's first live fire weapons capability testing," said Jim Riedel, Moog SDG, Group Vice President. "This is a significant milestone and with the Moog Third Generation Weapon Stores Management System, the Scorpion jet will reliably deliver an extensive level of weapons customization and precision performance our Warfighters urgently require to neutralize evolving threats."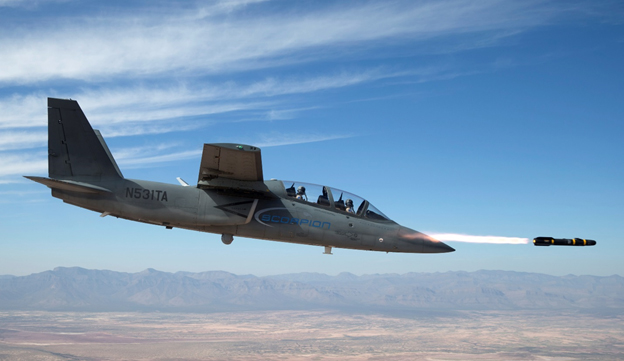 Scorpion jet deploying an AGM-114 HELLFIRE Missile.  Image courtesy of Textron AirLand.

This latest close air support capability testing with the Scorpion adds to Moog's rapidly growing list of successful weapons testing and proven compatibility with many direct fire and complex missile systems, including the ability to enable the full range of capabilities of the AGM-114R (HELLFIRE Romeo) missile. With the Moog SMS, any air, land or sea platform can be weaponized with a wide array of weapons. "The Moog SMS is small, lightweight, and robust – its modularity and affordability allows maximum interoperable load-out of weapons on command," said Jason Reichard, Moog SDG, IDS Director. "The system's ease of use and weapons status overlay feature enables comprehensive weapons situational awareness for efficient and effective combat mission execution."
"The Scorpion jet's first weapons capability exercise was a tremendous success due in part to the collaboration and expertise from Moog," said Tom Hammoor, Senior Vice President of Defense at Textron Aviation. "The Scorpion's open architecture system design allowed for successful integration with Moog's Weapon Stores Management System and we could not be more pleased with the results."
About Moog
Moog Inc. is a worldwide designer, manufacturer, and integrator of precision control components and systems. Moog high-performance systems control military and commercial aircraft, satellites and space vehicles, launch vehicles, missiles, automated industrial machinery, wind energy, and marine products. Additional information about the company can be found at www.moog.com. Additional information about Moog Defense Sectors can be found at www.moog.com/defense. 
Contact Us
Defense Media
+1 716.687.7157
Defense Sales
+1 407.451.9534