Moog Reconfigurable Integrated-weapons Platform Outfitted with M230LF Cannon on Exhibit at IDEX 2017
The 30mm M230LF cannon increases the RIwP's overmatch capabilities

East Aurora, NY, (Feb. 19, 2017) – Moog Inc. (NYSE: MOG.A and MOG.B) Space and Defense Group will exhibit the Reconfigurable Integrated-weapons Platform (RIwP) to an audience of more than 100,000 visitors from 143 countries at the International Defense Exhibition and Conference (IDEX) 2017 in Abu Dhabi, United Arab Emirates. The RIwP has expanded its overmatch capability and added lethality with the successful integration and test firing of an M230LF cannon. Other recent enhancements include improved egress with the addition of a personnel hatch, and an optional Army production IBAS (Improved Bradley Acquisition Subsystem) sight. The RIwP is mounted on an Oshkosh Defense Mine-Resistant Ambush Protected (MRAP) All-Terrain Vehicle (M-ATV) and is on exhibit from February 19 – 23 in Oshkosh Defense's Booth #02-B11.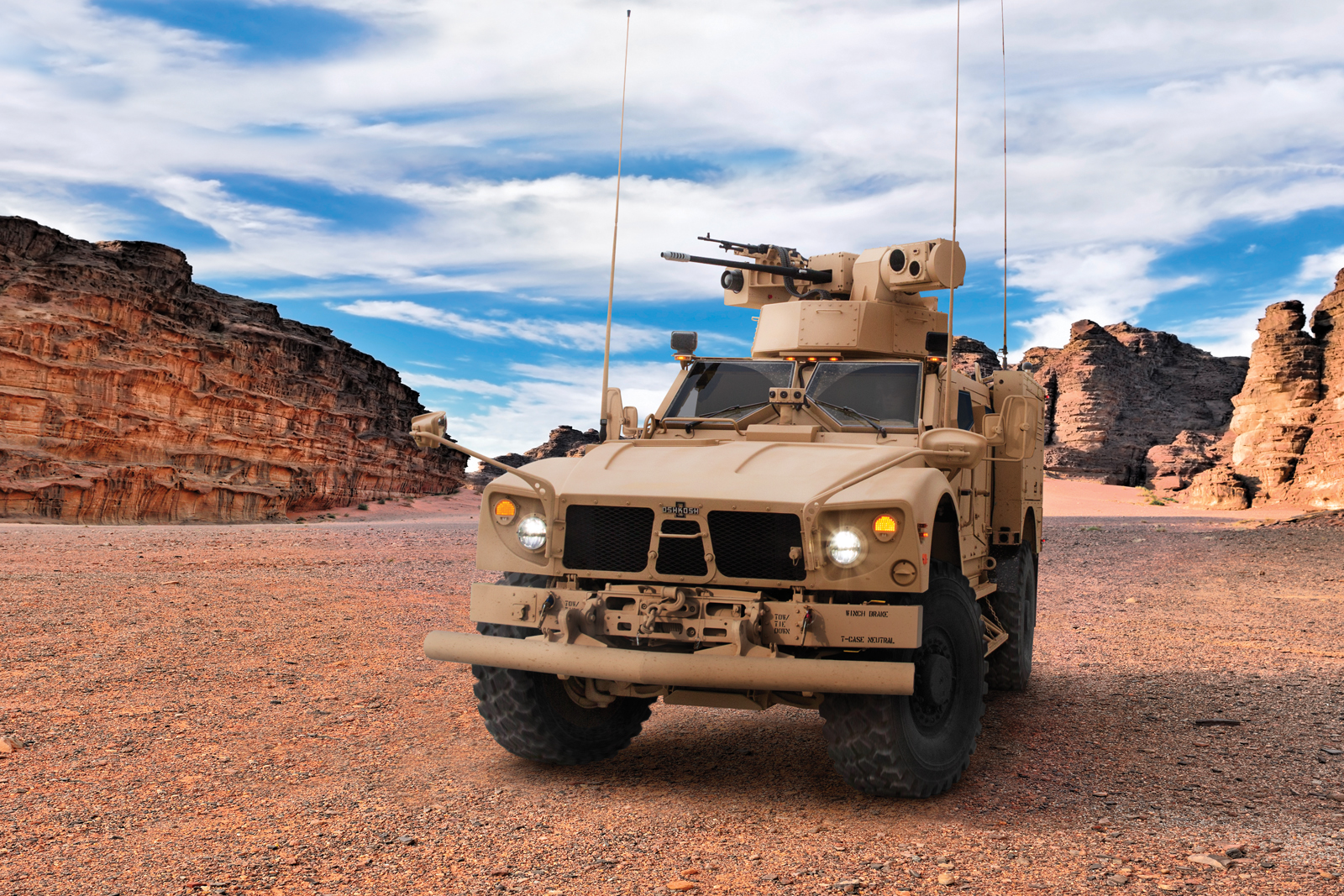 The RIwP's M230LF cannon coupled with on-the-move superior stabilization capabilities allows the warfighter to defeat an enemy target at long ranges under all battlefield conditions. With 100 ready-rounds and reload-under-armor the warfighter can siginificantly extend mission operations while remaining fully protected from enemy fire. "With more than 125 weapon configurations the RIwP maximizes interoperability," said Rob Urban, General Manager of Moog's Santa Barbara, CA Operations. "We are proud to offer this affordable game-changing solution to the U.S. and its allies in response to current senior U.S. Armed Forces leadership interests."
IDEX 2017, hosted at the Abu Dhabi National Exhibition Centre (ADNEC), under the patronage of His Highness Sheikh Khalifa Bin Zayed Al Nahyan, President of the UAE and Supreme Commander of the UAE Armed Forces, is a strategically important tri-service defense exhibition. IDEX offers the Middle East and North Africa (MENA) region demonstrations of the latest technology across air, land and sea defense sectors. Senior leaders, officials and defense decision makers from Asia, Europe, America, Africa and Australia will participate in the biennial exhibition and conference. RIwP, armed with a Javelin missile launcher, Orbital ATK M230LF 30mm lightweight automatic chain gun, M249 machine gun, and teammate DRS Technologies' PS2 long range sensor suite, will be one of over 1,100 displays.
The battle-proven M-ATV Family of Vehicles from Oshkosh Defense, LLC offers the best combination of protection and off-road mobility performance for peacekeeping, internal security, border security, special forces, counterinsurgency and conventional military operations. The M-ATV, which is the U.S. military's MRAP platform of choice for future missions, uses the Oshkosh TAK-4® independent suspension system to deliver exceptional off-road mobility in places where rough terrain and unpaved roads dominate the landscape. The Oshkosh M-ATV is available in standard and extended wheel base models to provide fleet commonality while supporting a full range of offensive and defensive missions. Additional images and video available: www.moog.com/riwp
---
About Moog Inc.
Moog Inc. is a worldwide designer, manufacturer, and integrator of precision control components and systems. Moog high-performance systems control military and commercial aircraft, satellites and space vehicles, launch vehicles, missiles, automated industrial machinery, wind energy, and marine products. Additional information about the company can be found at www.moog.com. Additional information about the Moog Defense Sector can be found at www.moog.com/defense.
About Oshkosh
Oshkosh Defense is a leading provider of tactical wheeled vehicles and life cycle sustainment services. For decades Oshkosh has been mobilizing military and security forces around the globe by offering a full portfolio of heavy, medium, light and highly protected military vehicles to support our customers' missions. In addition, Oshkosh offers advanced technologies and vehicle components such as TAK-4® independent suspension systems, TerraMax™ unmanned ground vehicle solutions, Command Zone™ integrated control and diagnostics system, and ProPulse® diesel electric and onboard vehicle power solutions, to provide our customers with a technical edge as they fulfill their missions. Every Oshkosh vehicle is backed by a team of defense industry experts and complete range of sustainment and training services to optimize fleet readiness and performance. Oshkosh Defense, LLC is an Oshkosh Corporation company [NYSE: OSK]. To learn more about Oshkosh Defense, please visit us at www.oshkoshdefense.com.
Contact Us
Defense Media
+1 716.687.7157