Moog's New Energy Management System DE2020 Makes Simulator's Motion System Even Smarter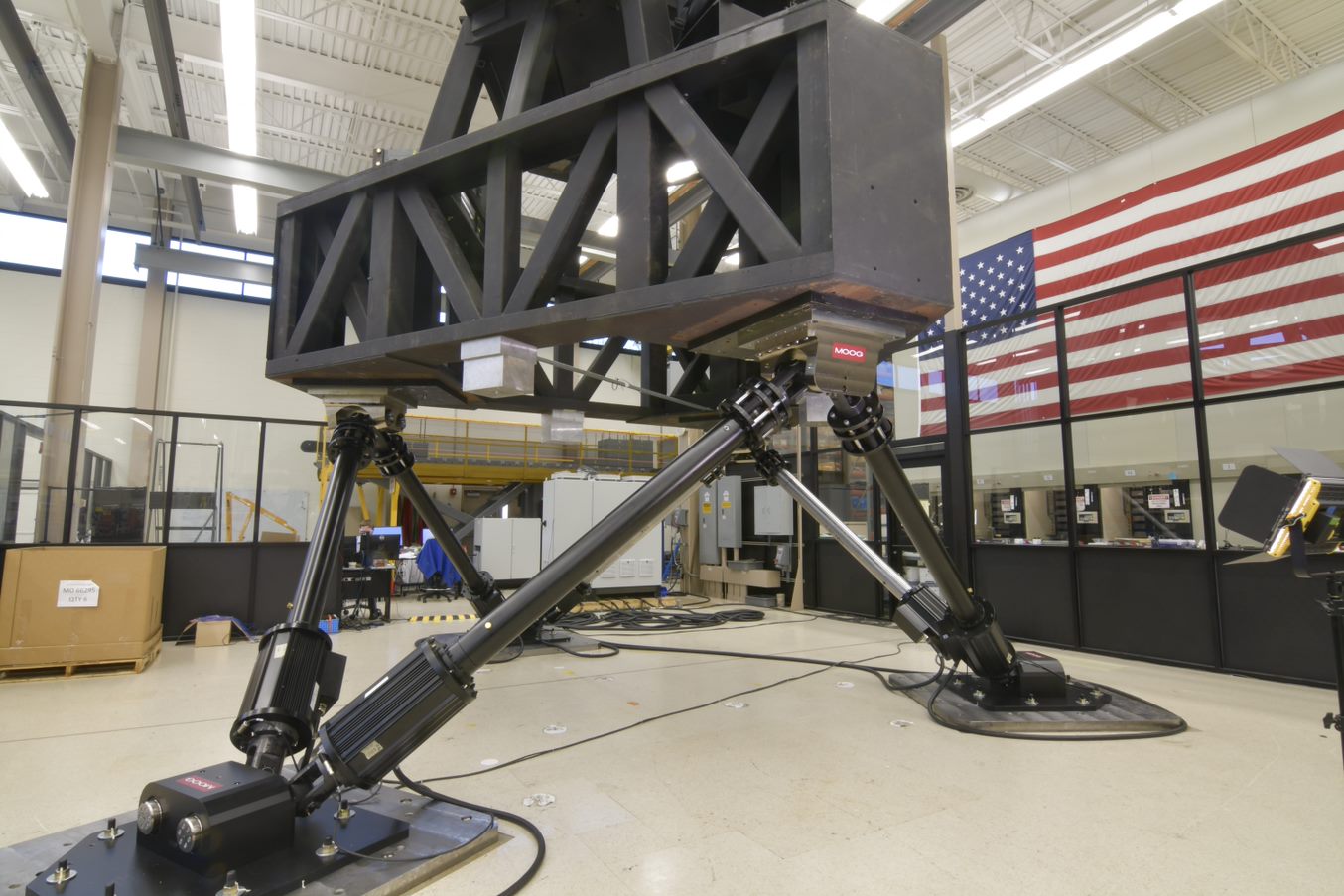 Gen3 motion base underpins a simulated load – © Moog
East Aurora, NY, USA, March 3rd, 2022 – Moog's new Gen3 motion system, designed for training and certifying commercial and military flight crews and facilitating motor vehicle development, features a newly introduced Moog DE2020 smart energy management system that reduces surge power by 65% without sacrificing performance.
With more than 1,000 motion systems installed worldwide, Moog's team drew on this experience to develop not only the new Gen3 motion base but also the DE2020 technology.
With the DE2020 system, Moog engineers utilized the proprietary Moog technology incorporated in Formula 1® race cars to design an energy recovery system for the Gen3 motion system. The system absorbs the short-term energy bursts that occur with flight simulation and vehicle design for later use. The DE2020 eliminates the need to size electrical power to handle peak loads, even if the peaks occur rarely during a work cycle. The result saves energy, reduces costs, and streamlines cable design and power connections for users of the Gen3 motion system. 
"During normal operations, a motor or motion system generates a regular load. But during acceleration, a system requires more short-term energy, while the release of energy from mechanical inertia or braking mostly converts to heat without being used," said Tim Herget, Moog Staff Systems engineer.
The DE2020 system meets peak loads by drawing power from the Gen3 motion base's capacitor banks, while using energy gains from braking and mechanical inertia to recharge the capacitors. By doing this, the DE2020 prepares the capacitors for the next peak. 
This system can also be used to compensate for fluctuations in the mains by using a pre-filter in combination with the capacitor bank. Or, in the event of a sudden power failure, the DE2020 can supply the Gen3 system with enough energy to reach the safe return to home position.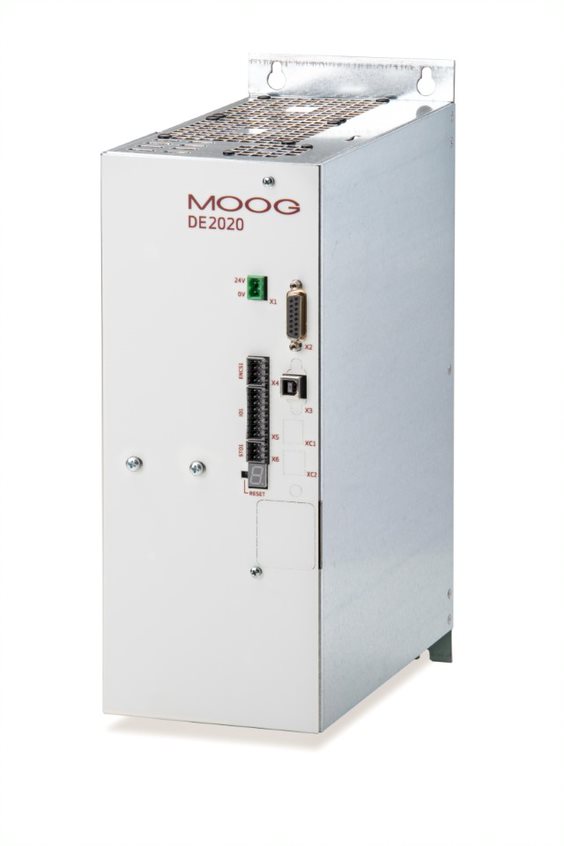 DE2020 module – © Moog
More flexibility, compactness, and savings 
The Gen3 control cabinet, which is half the size of prior designs, houses Moog's cutting-edge DM2020 multi-axis servo drive which controls the motion system's actuators. Moog engineers achieved the compact design using a common DC bus managed by the DE2020 system. The DM2020 ensures high speeds and faster cycle times by means of a control board and software that handles an array of motor and actuator types. The DM2020 synchronizes the axes through an EtherCAT connection between the modules; with a common DC bus configuration, the DM2020 enables an energy exchange between the axes that also reduces energy consumption. 
 
Precise, heavy-duty, highly dynamic
Gen3 also makes use of Moog's latest, fastest planetary roller screws, which carry high loads while precisely accelerating or braking. Depending on the type of payload the Gen3 system underpins, its actuators can move approximately 15 tons from 2.2 meters (7.22 ft) to 4 meters (13 ft) and tilt the payload +/- 27°, at a rate of 70 cm (28 in) per second. 
Moog engineers expect the Gen3 system to reduce unplanned maintenance by approximately 22 percent and provide customers with more than 99.5% uptime. 
"In redesigning the Gen3 system, we evaluated every component, especially the actuators, to ensure that the motion system contains fewer parts and customers can easily swap out or repair worn components," added Herget. "For example, customers can replace the dampening elements during operation without removing or recalibrating the actuator. Similarly, the power connection and encoder assemblies are replaceable too."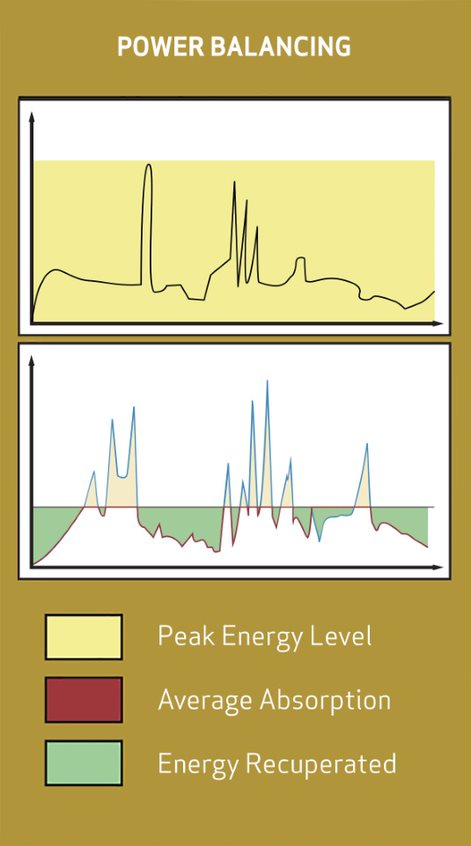 Power balance cycle – © Moog
Moog engineers also see the DE2020 and DM2020 technology improving other applications such as industrial automation, test benches, handling, robotics or simply replacing hydraulic and pneumatic systems at an industrial facility.
For more information, visit the DE2020 product page on www.moog.com and watch the explanatory video.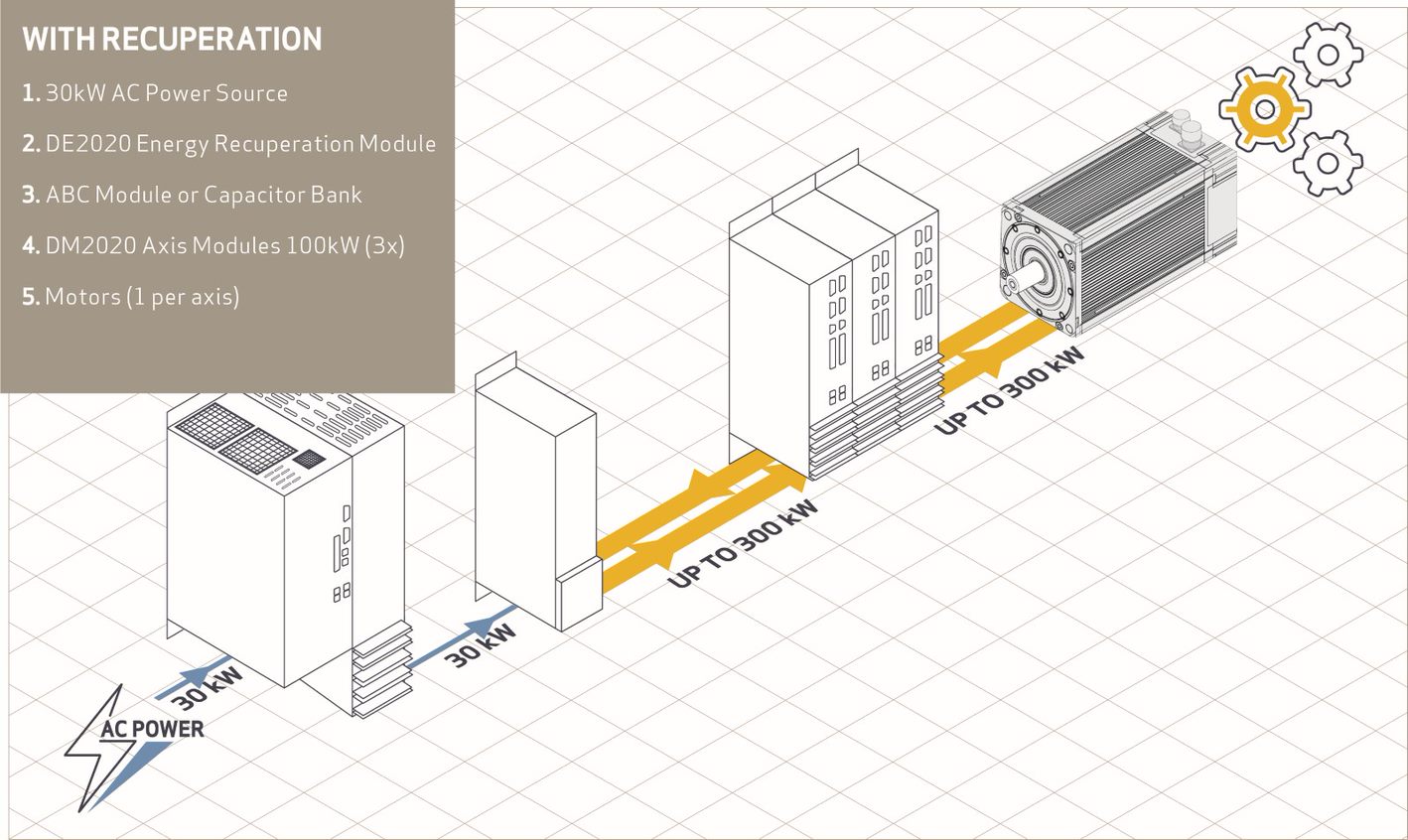 Energy management with recuperation – © Moog
About Moog
Moog Inc. is a worldwide designer, manufacturer and integrator of precision control components and systems. Moog Industrial Controls segment designs and manufactures high performance motion control products, solutions and services combining electric, hydraulic, and hybrid technologies with expert consultative support in a range of applications in energy, industrial machinery, simulation and test markets. We help performance-driven companies to design and develop their next-generation equipment. Moog Industrial Controls segment, which had fiscal year 2021 sales of US $892 million and over 40 locations worldwide, is part of Moog Inc., which had fiscal year 2021 sales of US $2.9 billion. For more information, please visit www.moog.com.