Infantry Fighting Vehicle Elevation Actuator C6L265M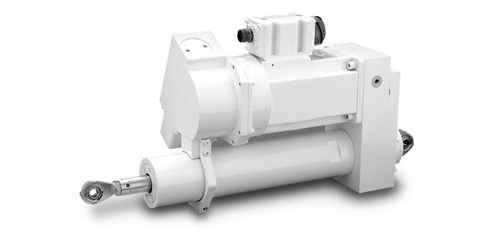 This electromechanical linear actuator is designed to improve stabilization accuracy and slew rates for existing and new turret applications.  This series of linear actuators is designed to meet or exceed the demanding requirements of combat vehicle turret control applications.  These actuators may be used for upgrading older hydraulic turrets or for new turrets .  Features include a brushless DC motor, linear ball screw output, self-lubricated spherical rod end bearings, external anti-rotation, MIL-STD connectors.  Options include no-back and an input shaft for the manual drive. 

Specifications
Peak Torque

4000 lbf (17.8 kN)

Rated Torque

1350 lbf (6.0 kN)

Rated Speed

4.6 in/sec (116 mm/sec)

No Load Speed

5.8 in/sec (147 mm/sec)

Clutch Holding Torque

3360 lbf (14.9 kN)

Supply Voltage

24 VDC, 48 VDC, 270 VDC, or 650 VDC

Stiffness

125 klbf/in (21.9 kN/mm)

Backlash

0.007 in (0.178 mm)

Weight

67 lbm (30.4 kg)

Retracted length

19.78 in (502 mm)

Extended length

30.18 in (767 mm)

Our extensive product offering of Elevation Actuators are flexible and customizable to your specific needs. For more information on Elevation Actuators, or this specific model please contact us.
Features:
Brushless DC motor
Ballscrew linear output
External anti-rotation design
Self-lubricated spherical rod end bearings
MIL-Spec electrical connectors
Integrated failsafe clutch and manual drive
 Input shaft for manual drive
Optional no-back
Custom manual input ratios (60 rev/in standard)
Complies with MIL-STD 810E and MIL-STD 461E