Avionics, Software, GN&C
Moog Advanced Avionics Systems are based on 3U boards designed specifically for spacecraft & payload applications. Systems are available for Command and Data Handling (C&DH), Electrical Power System (EPS), integrated C&DH & EPS, or payload applications. Design options include single string and redundant systems. All avionics are tailored to meet the mission requirements. Existing designs are drawn on where advantageous and new designs are created where significant benefits may result. All Avionics designs adhere to the highest standards in space flight hardware design. Space qualified parts are used throughout unless special requirements dictate otherwise and all design methods are tailored specifically with space flight environmental and functional requirements in mind.
Integrated Avionics Unit (IAU)
Moog avionics systems and boards allow custom configurations using a combination of existing and new designs. This allows for maximum design reuse and provides low-risk tailoring to specific mission and customer requirements. In addition it enables rapid system evolution and upgrades. Moog has employed this approach successfully on a number of flight projects to date.
Our redundant avionics solution includes two Integrated Avionics Units and a triple redundant Redundancy Management Unit (RMU). This system provides an avionics solution for long duration GEO or other missions, as well as shorter missions with extremely high reliability requirements. The existing design completed qualification testing in 2010 and is currently available for flight missions. Moog also designs redundant avionics solutions tailored to specific customer requirements.
Engineering unit versions with flight like commercial CPUs are available as software development units (SDU) for customers who would like to evaluate the architecture and/or would like an early start on software development tasks. SDU Boards are form, fit, and function compatible to the actual flight hardware but are not subjected to flight like testing and utilize some commercial part equivalents, such as FPGAs, memory, and commercial chassis.
SDUs provide an effective development platform that is available at a reduced schedule compared to full engineering or flight units. SDUs are available with various CPU versions, ethernet support, full EPS subsystem, and various interface boards. Software support, including drivers is available for VxWorks and other operating systems.
Missions: AFRL TacSat-2 (Roadrunner), Ball STV-SIV 1 & 2, Space Systems Loral, AFRL/Lockheed Martin XSS-11, AFRL ANGELS, NASA/Lockheed Martin IRIS, NASA LADEE, AFRL EAGLE, NASA/Ball GPIM
Document Downloads
BRE440 RadHard CPU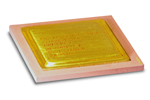 The Moog BRE440 CPU is designed to meet the requirements of a wide variety of current and future space and high reliability applications. The BRE440 CPU is a fully radiation hardened implementation of the PowerPC 440 processor core in a true System-On-a-Chip design, including floating point unit.
Moog has licensed the PPC440 core from IBM and has integrated it into the in-house developed chip design. Moog has contracted with Synopsys and Honeywell for the final implementation and manufacture of the devices.
The BRE440 Chip presents the culmination of several years of internal development effort aimed at producing the highest level of space based processing capabilities.
Missions: Available in many Moog next generation avionics and board products, NASA/Lockheed Martin/Honeywell Orion MPCV GPS Receiver
Document Downloads
CPU Boards

The development of the Moog BRE440 Rad-Hard CPU enables a new generation of spacecraft processing solutions. Moog is offering a number of products that are based on the BRE440 CPU to provide a higher level of processing power for on-orbit applications ranging from CPU boards to BRE440 based GPS Receivers.
The primary product is a series of CPU boards based on the BRE440 CPU intended for use in an Integrated Avionics Units or standalone C&DH systems. The first product in this lineup is the Mirideon CPU Board. A commercial version CPU board intended to allow early system and software development at low cost is available via the Starter 440 Board.
The Starter 440 Board is a commercial CPU board implementation based on an AMCC 440GP CPU that is code compatible with the BRE440. The Starter 440 is compatible with our Avionics architecture and may be used for code development.
The EM and flight boards are very similar in functionality and performance to the Starter 440 Board in order to enable quick drop-in replacement. Boards include: Ajeet, Miridian, and Starter.
The Ajeet computer combines the processing functions and the I/O necessary for a complete spacecraft C&DH system on a single 3U board. The Ajeet uses the BRE440 system-on-a-chip and the radiation-hardened Virtex- 5QV FPGA to perform the following: Flight software storage and execution; uplink command recovery, decode, execution and forward; downlink telemetry collection, format, and transmission; digital communication interfaces; analog and temperature acquisition interfaces; and Sun sensor input interfaces.
Moog is currently under contract with the Air Force for the delivery multiple flight units initially for the EAGLE program.
Missions: AFRL EAGLE
Digital + Analog Interface Boards

The MOAB Series of Boards provide a single 3U cPCI card solution for interfacing to a large number and variety of commonly found subsystems, payloads, and sensors. The MOAB boards handle complex and common C&DH functions. The MOAB series of boards includes versions for general purpose I/O (SMOAB), high speed I/O and mass memory (CMOAB/DMOAB), and analog I/O (AMOAB). All MOAB series boards support a large mix of commonly found interfaces.For many missions the MOAB together with a CPU board can make a complete spacecraft C&DH System.
Missions: Ball STP-SIV 1 & 2, NASA LADEE, NASA/Lockheed Martin IRIS, Lockheed Martin AMS-6
Payload I/O + Mass Memory Boards

The Payload Interface Board provides a single 3U cPCI card solution to interface to spacecraft payload subsystems, with configurable real-time and high-rate interfaces and 1GByte of mass memory SDRAM.
Missions: Ball STP-SIV
Power Management and Distribution Electronics

The SACI, PAPI, and LASI boards provide a complete spacecraft power distribution system solution. The SACI Board provides a solar array and battery interface complete with battery charge control and telemetry feedback capability. The PAPI/LASI and McLASI boards are general purpose switching cards which are controlled via the SACI. Multiple PAPI/ LASI/McLASI boards may be combined to increase the system capabilities.
The SACI, McLASI, and PAPI/LASI are designed to be compatible with a 3U form factor and provide interfaces for a 3U cPCI backplane. In such a setup, the SACI and PAPI/LASI may be used as part of an Integrated Avionics Unit— combining C&DH and EPS functions in one compact assembly.
A peak power tracking implementation is available using the 3U form factor based architecture of the IAU. The system has been designed to support 3 Solar Array Inputs per 3U card for a system total of up to 30A at 28V. Peak Power Tracking functions are autonomously controlled by an on-board FPGA. Telemetry is provided to the avionics host system via the backplane.
Missions: AFRL TacSat-2 (Roadrunner), Ball STV-SIV 1 & 2, AFRL/Lockheed Martin XSS-11, NASA LADEE, Lockheed Martin AMS
Specialized Payload & Instrument Electronics

Moog designs specialized payload and instrument electronics to accomplish specific mission goals. Examples range from high voltage and very low current monitoring systems to high-speed payload data processing electronics. Moog can deliver complex instrument electronics for your specialized science mission - in space, on earth, or any other planet.
Examples: AFRL/JPL Propulsion Instrument Electronics (PIE), AFRL/JPL Instrument Control Electronics (ICE, used on AEHF), Lockheed Martin GOES-R Transient Suppression Units (TSU), NASA LADEE Propulsion Valve Driver Electronics, Ball WorldView High Speed Payload Data Processing Unit, NASA Glory Payload Interface Electronics
Modular Avionics Test Interface Boards

The McMOATI Boards (Digital & Analog McMOATI) are general purpose 3U cPCI test boards to used emulate a wide variety of payload or unique subsystem interfaces. Its intended use is for engineering and flight unit ground testing of critical space flight hardware. The board uses devices similar to those used on space flight hardware to ensure that functional and hardware compatibility are tested, even when actual subsystems are unavailable.
Document Downloads
Phone Contact
Phil Tokeshi Mgr., Business Development +1 716-687-7849