Reliable. Configurable. Precise.
Modular Design with your Bottom Line in Mind.
Simple and User Friendly - Our simplified feature-rich user interface allows operators to perform complex tasks faster and with minimal training.
Universal Testing - From simple fatigue tests to highly integrated full vehicle road vibration tests and more, rely on Moog Test Controllers for testing in a wide variety of applications.
Modular and Compact - No job is too big or too small. Modular design fits easily into any hydraulic or electric test system, large or small.
Impressive Value - Designed with your bottom line in mind. The initial purchase, maintenance and upgrade costs are all lower than the leading competition with direct comparisons.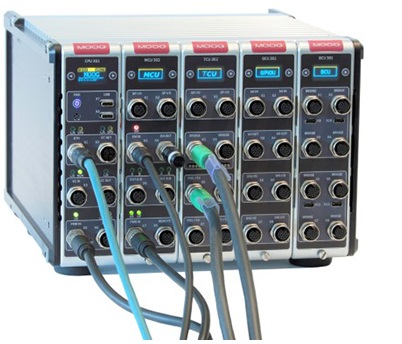 Applications:
Performance or Buzz, Squeak and Rattle Test Systems
Structural Static and Fatigue Test Systems
Elastromeric testing  
More Advantages:

Reliable Results
Unsurpassed precision
Easily configurable
Local product support and services facilities worldwide