Power and Voltage-Switching Unit (PVSU)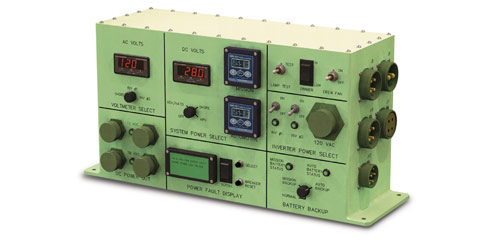 PVSU Features:
Combines and modernizes the three most common military ground-mobile power handling LRUs (PDU, PSU and VSU)
Utilizes state-of-the-art, self-protected, BIT capable, "Smart Power" switching hybrids and interface circuitry
Unites an intuitive operator interface with military HFE designed displays and controls
Provides full BIT/BITE, diagnostics and fault isolation
Easily integrated, full military environment qualified power handling solution for legacy platform upgrades and new platform designs
The power distribution portion current limits, filters and distributes the platform's prime power source to the platform's DC power grid.
Power system faults are displayed and communicated on the CAN Bus
Electronic "circuit-breakers" can be reset locally ore remotely via the CAN Bus
The power select portion allows the user to switch between various platform and external power sources
NATO (28V) Receptacle, Auxiliary Power Unit, Shore Power (AC), Inverter outputs, etc.
The voltage switching portion displays the State of Health (SoH) for the battery bank(s), the AC input/inverter outputs and provides optional Battery Bank switching for isolation, load switching, battle-override and emergency starting functions.
PVSU Specifications:
20 Electronic Circuit-Breakers (ECB)
Configurable 5A to 50A
"Reset" from Front Panel or via CAN Bus
Remote Breaker Assembly provides 20 additional PVSU controlled ECBs
Displays
Two, Battery State of Health (SoH)
Power Fault for ECB status/control
AC and DC Voltage
Two, Inverter Power Status
Display test and brightness functions
Comprehensive Diagnostics and BIT/BITE
PBIT, CBIT and IBIT (if required)
Status reported on serial Bus (CAN)
Communication
CAN Bus
RS232
GbE Wire/Fiber, standard option
Easily upgraded for other Buses