Propulsion Components and Subsystems
Latch Valves

The Latch Valve or Isolation Valve is a torque motor actuated device that remains in either the open or closed position without power. Commanding the appropriate coil (open or closed) changes the valve's position. A mechanical microswitch determines the valve poppet and armature position. Moog provides both stainless steel and titanium tube interfaces.
High Pressure Valves

The high pressure valves are electromechanically actuated with various configurations. This hardware is designed to operate in pressures of 4000 psi and higher and can be provided in standard isolation and latching configuration.
Programs: Satellite Programs, Orion
Fill and Drain Valves

The Service Valve or Fill and Drain Valve is manually operated, directing acting device that allows for pressurant or propellant servicing. The design allows for more positive isolation through a ball and seat interface and is available in a variety of tube interfaces and fitting sizes.
Regulators

Regulators are used to control propellant feed system pressure on a launch vehicle. Regulators are offered in several different varieties to meet the needs of specific programs.
Launch Vehicle Subsystems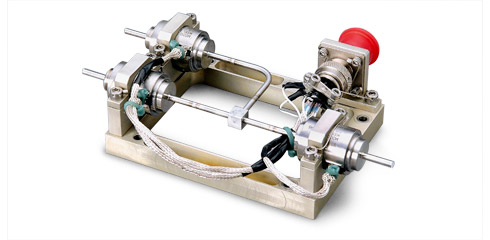 Subsystems on launch vehicles provide control and isolation for propellants. Components for each subsystem are procured, tested, cleaned and then welded into the module to create the completed system. Moog also offers integration of subsystems onto customer platforms.