RKP Radial Piston Pump
A HIGH-PERFORMANCE, DURABLE AND QUIET PUMP DESIGN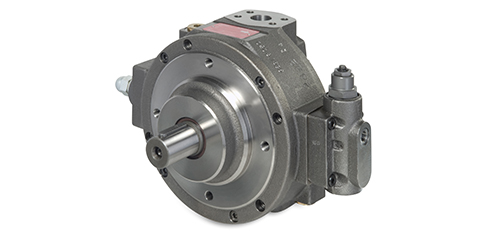 The Moog Radial Piston Pump, also known as RKP, has served the industrial market for over three decades and is widely known for its robust and reliable design. 
Since 2001, when Moog aquired the RKP business from Bosch, Moog has improved and optimized the original design to meet the requirements of key applications and modern industrial standards. The latest Moog design offers greater durability and quieter performance not only when compared to the older version, but also when compared to the state-of-art designs in the marketplace. 
A significant change made to the design was an optimized pump housing with nine instead of seven pistons, which reduces flow pulsation and noise emission. Another improvement includes a redesigned sliding stroke ring. This version has been successfully introduced in the market since 2006 and has proven its superiority in characteristics such as low noise and durability. We are proud that no major failure case has been reported from the field.
Benefits and Features
Significantly reduced sound level for noise-critical applications, helps machine builders to meet the European Union's (EU) noise guideline (2003/10/EC)
Available in sizes 19, 32, 45, 63, 80, 100, 140 and 250 cc per revolution. For needs beyond these sizes, please contact your local Moog office.
The standard design permits continuous pressure to 280 bar [4,000 psi] with 350 bar [5,000 psi] peak limit and the high-pressure version is capable of continuous pressures up to 350 bar [5,000 psi] with 420 bar [6,000 psi] peak limit
Highly energy efficiency design saves on operating costs
Flexibility in implementing this product into new machine designs due to the availability of a large number of sizes, control types and mounting flanges, as well as approved versions for a variety of operating liquids
Improved durability, low maintenance requirements and long pump life help significantly reduce maintenance costs and encourage more uptime
Increased stability, even under unfavorable operating conditions
Simplified connection for easy set-up and commissioning
Explosion-proof and Digital Control (RKP-D) versions available