MSD Single-Axis Servo Drive
HIGH PERFORMANCE FOR INCREASED PRODUCTIVITY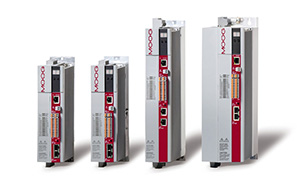 Product Description: Single-Axis Servo Drives for the control of sychronous and asynchronous machines, delivering the highest level of dynamic response, smooth performance and application versatility. It is a module of the Programmable Multi-Axis Servo Drive System (MSD).
Features 
Programmable with built-in PLC functionality per IEC61131
High speed communication via a range of fieldbus connections (e.g. EtherCat, CANopen, Profibus DP, Sercos,and others) 
High update rates, operating at cycle times of 62.5 µs for current and 125 µs for velocity and position control loops
Built-in functional safety per EN61508, EN62061, EN ISO13849-1, IEC61900-5852
8 sizes based on output power ranging from 4 up to 450 Arms and 3 compact size versions based on output power ranging from 2 up to 8 Arms
Integrated safety function (per EN 61800-5-2) with Safety PLC available as an option
Advantages
Higher machine productivity - From lowering cycle times in an injection molding machine, to increasing feed rates in a metal forming press, it delivers a significant increase in machine output.
Improved machine precision - More precise motion control results in higher accuracy, virtually no part variations and reduced scrap.
Higher machine flexibility - The modularity of this servo drive coupled with the ability to tailor customer-specific solutions provides the perfect flexible platform for different machine types, putting them at the heart of today's leading-edge designs
Flexibility for use in complex multi-axis applications- This product can be integrated seamlessly as a module in the Programmable Multi-Axis Servo Drive System.
Specifications
Current Rating
Servo Drives from 2-450 A with either air or liquid cooling
Size
Compact size. Suitable for 300 mm [11.8 in] switch cabinet depth, extremely small housing width, for the best possible switch cabinet usage
Communication Protocols
High-speed communication via field bus connection to a wide range of control systems (including EtherCAT, CANopen, Profibus, SERCOS among others)
Feedback Devices
Support for simultaneous feedback from 3 encoders ensures precise positioning capability extending from resolver to Sin/Cos single/multi-turn encoders
Safety
Built-in functional safety as per EN 61508, EN 62061, EN ISO13849-1, IEC 61800-5-2, personnel safety directly into the drive controller
PLC Functionality
Built-in PLC as per IEC61131 provides functions adapted to the application with direct access to the servo drive
Software
Tailored software packages with motion control functionality for every application