Digital Control Servo Valves and Axis Control Valves
INTELLIGENT SERVO AND PROPORTIONAL VALVES WITH ANALOG OR FIELDBUS INTERFACES DESIGNED TO OPTIMIZE MACHINE FUNCTIONALITY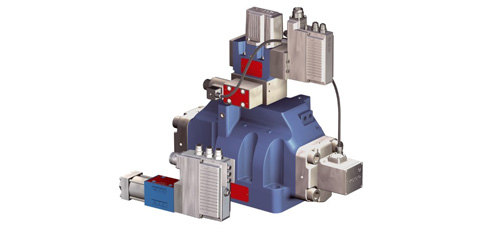 Today, machine designers require intelligent support for motion control tasks that incorporate state-of-theart digital valve electronics for flexible integration, high productivity and simple maintenance. For over 60 years, Moog has earned a reputation for designing and manufacturing world-class motion control products that greatly improve the performance of critical machine applications across a range of industries.
Moog Digital and Axis Control Servo Valves are prime examples of how Moog leads the way in high performance closed-loop hydraulic valves used in the world's most demanding environments and applications.
The Moog family of Digital and Axis Control Servo Valves provide the ability to tailor the valves and tune the software to meet your exact machine requirements for flexibility, production and maintenance. Explosion-proof versions are ATEX, IECEx and FM certified for use in potentially hazardous environments. 
Common features and advantages of DCV and ACV
| | |
| --- | --- |
| Features | Advantages |
| Moog offers the ability to exactly tailor hardware, configurations and functionality to meet your specific application need. | This allows you to optimize machine performance to gain competitive advantages in your market. |
| Robust Moog hardware and electronics are built for extreme environments such as wind turbines and gas turbines. Plus, we have over 10 years of field experience with these products and the largest installed base in a variety of applications. | Product series proven to perform reliably in many industrial applications, minimizing risk of newtechnology and resulting in higher machine uptime and availability. |
| Improved dynamics over traditional valve technology due to high performance design of hardware and software. | This increases machine performance in areas such as higher acceleration, improved accuracy and better productivity. |
| High valve-to-valve repeatability due to consistent valve design and quality and ability to set parameters in the Moog Valve Configuration Software or your own software. | This ensures optimized performance for the life of the machine and ability to support the product with the exact same valve over time. |
| Moog Global Support and hands-on training delivered by experts in motion control. | Our expertise reduces your downtime and protects your investment. |
Product Service & Repairs