Hydraulic Simulation Table
A UNIQUE APPROACH TO OPEN NEW TEST HORIZONS 
WITH HYDRAULIC SIMULATION TABLES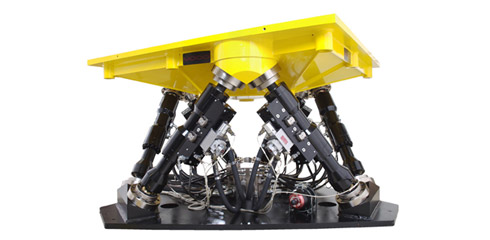 A Hydraulic Simulation Table (sometimes also known as a multi-axis shaker table) is a dynamic system, designed to perform research and development tests. It requires an appropriate configuration, coupled with a Test Controller and features a state-of-the-art digital architecture using the latest hardware and software.
This dynamic Simulation Table is comprised of a platform that is as compact and light as possible and a base jig consisting of base plates on which stress resistant hydrostatic jacks are assembled with rods jutting from the jacks connected to the platform structure.
Both position and acceleration are controlled by the system through integrated control hardware and software. The Simulation Table can support heavy loads, while requiring only a minimum of space in your test labs.
Advantages
New test possibilities
Man rated applications
Optimized test quality
Faster speed of test
Controlled cost of testing
Minimized lab space
Applications
Vibration
Durability
Buzz, Squeak and Rattle
Noise and Harshness
Testing of vehicle components and accessories