Fiber Optic Multiplexing
To exploit the full bandwidth of fiber, multiplexing combines many signals of various types — video, serial data, network data, control lines — onto one optical fiber. Multiplexers that combine a number of signals electrically are typically called time division multiplexers (TDM); discrete parts of each input signal is assigned a time slot in the outgoing data stream. Moog has a wide range of TDM options that allow multiple electrical channels to be multiplexed onto one or more optical fibers.
We also produce multiplexers that combine a number of optical signals onto one or two fibers. These multiplexers use wave division multiplexers (WDM) because they transmit different signals on different wavelengths of light on the same optical fiber.
Both multiplexing techniques can be used separately or together to simplify optical transmission systems and reduce cost, improve reliability, reduce weight and improve performance. Multiplexed systems also simplify system upgrades since numbers of channels and channel bandwidth is a function of the electronics rather than the transmission line or components. Moog multiplexers accommodate the ever-increasing data rates needed for digital video and industrial data protocols, as well as high speed networks such as Ethernet and IEEE-1394 (Firewire).
Standard Multiplexers
Moog offers standard multiplexing systems in several sizes, ranging from the Eurocard-based system to smaller form factors, such as the PC/104 based and credit card size.
Condition Monitoring
Down time for marine installations can be costly and hazardous. Moog products support a unified condition monitoring system which helps with preventative maintenance scheduling and reduces troubleshooting times. Parameters include: rotary joint speed, direction, and turns counter; fiber optic loss for the umbilical, tether, fiber joints and TMS / ROV; and electronics temperature, I/O activity and power supply voltage.
Pressure Tolerant Electronics and Optics
Moog provides pressure tolerant solutions for video, HD video, Ethernet and serial with thousands of products in the field. Optical transceivers are available in singlemode single fiber (bidirectional 1310 / 1550 nm) or singlemode dual fiber (18 CWDM wavelengths) up to a data rate of 4.25 Gbps.
Market Specific Multiplexers
Through close collaboration with customers and industry leaders, we develop market specific products that address particular design challenges.
Custom Multiplexers
Moog offers custom designed multiplexer products that meet the exact requirements of OEM systems and special applications.
Visit the Blog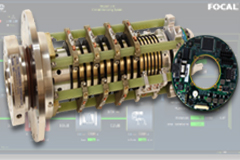 Reducing ROV Operating Costs and Enhancing Reliability with Monitoring Technology
Learn how Moog Focal's condition monitoring technology helps ROVs avoid downtime while performing demanding construction, inspection and repair operations around the globe.

Technical Support
Telephone:  +1-902-468-2263

Focal Support Documentation
Browse Catalog