Proven Slip Rings
A slip ring is an electromechanical device that allows the transmission of power and electrical signals from a stationary to a rotating structure. Also called a rotary electrical joint, collector or electric swivel, a slip ring can be used in any electromechanical system that requires unrestrained, intermittent or continuous rotation while transmitting power and / or data. It can improve mechanical performance, simplify system operation and eliminate damage-prone wires dangling from movable joints. 
For high speed data transfer or for data transfer in EMI sensitive environments, we manufacture a line of FORJs.

With over 10,000 designs, if you do not see a slip ring to match your requirements, please contact us for assistance. 
Learn More about Slip Rings
With over 35 years of experience, our Business Development Specialist, Glenn Dorsey, discusses the basics of slip rings. From how they are designed and manufactured to the internal workings that allow the transmission of power and data, Dorsey shares key information on choosing the right slip ring for you. Japanese Subtitles
Where does slip ring noise originate? In this video, our Business Development Specialist discusses resistive / ohmic noise (traditionally known as slip ring noise) and the factors needed to successfully operate slip rings in different applications.
Visit the Blog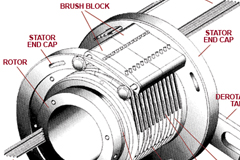 Learn about the benefits, basic configuration and other fundamentals of slip rings.