Reducing ROV Operating Costs and Enhancing Reliability
June 21, 2017 | By: Shawn Taylor

At Moog, we work hard to provide quality solutions for our customers in applications Where Performance Really Matters.  Moog Focal operations in Halifax, Canada is no different.  We provide robust and reliable power and communication technologies for Remotely Operated Vehicles (ROVs). These ROVs perform demanding construction, inspection and repair operations in our oceans, lakes and waterways around the globe.

What Problem Are We Solving?
Deepwater ROVs are piloted onboard specialized ROV Support Vessels using robust long-distance optical communication and control systems enabling the ROVs to be operated several kilometers beneath the ocean. This communication system between the ROV and the pilot is critical.  If an ROV communication system goes down, the pilot cannot control the vehicle and an extensive ROV operation grinds to a halt, critical projects are delayed and money is lost.
Our Vision: Reliability
Moog Focal engineers set out to solve this problem with the vision of creating a ruggedized fit-for-purpose condition monitoring system capable of providing a comprehensive and real-time overview of power and communication performance.  With this system, users would monitor end-to-end system performance during commissioning, during and after ROV operations. Real-time and data-logging capabilities would allow faster troubleshooting, and smart data-analysis would enable operators to plan maintenance. 
How Does It Work?                                                                                       
Moog's condition monitoring solution collects and analyzes information provided from sensors embedded in key components of the communication and power system.  This data is streamed to a central hub for intelligent analysis, and can be monitored in real-time and/or used to trigger warnings or alarms for system operators.  
The key components in any communication system are the transmitter, the receiver, and of course the communication link itself and any interfaces in-between.  In a fiber optic communication system, this is the optical transceivers, optical connectors, optical fiber, and in applications which require rotary transfer (like an ROV with a long cable fed out on a deck and subsea winch), a slip ring. 
Here's how Moog is adding rugged sensing technology and software to help ensure the highest uptime possible:

Sensors built into our communication electronics provide information on signal input and output activity, power levels, and link status. This information is used to help determine how well the communication system is working at each end of a point-to-point link like an ROV link. 

Ruggedized sensors built directly into our rotary joints tell the user what environment the system is in (temperature, humidity, vibration) as well as how it is being used (in a rotary joint – how many times has it rotated).  Together these operational parameters are used to indicate when maintenance is needed.  
Real-time monitoring of the loss across each element at all points within the optical link is provided with a passive, in-line optical monitoring device.  This system is used to identify how the losses may be changing over time, and exactly where in your communication system you may be seeing reduced optical performance (i.e. a dirty or loose optical connector).
 

Collection of all sensor data into a single hub for logging, intelligent analysis, with local and remotely accessible IP accessibility using an easy-to-use graphical interface. 

Moog Focal remains laser-focused on providing high-quality and reliable power and data communication solutions for ROVs.  We're excited about how our condition monitoring technology can help our customers avoid downtime and provide world-class operations in extreme environments around the globe. 
For more information, please visit www.moog.com/focal, or contact us.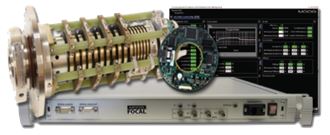 About the Author
Shawn Taylor is the Sales and Business Development Manager at Moog Focal, working at Moog's Halifax, NS operations since 2007.