LifeGuard Ultrasonic Point Level Sensor
PRECISE, NON-INVASIVE LIQUID LEVEL DETECTORS USED TO MONITOR KEY LIQUID LEVELS IN RESERVOIRS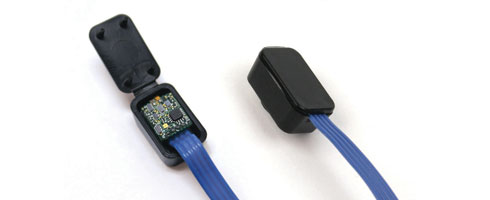 Proven and reliable liquid level monitoring technology in an all new package.
The LifeGuard Point Level Sensor from Moog successfully integrates proven and reliable technology in an extremely small and versatile package. The LifeGuard Point Level Sensor provides continuous liquid level monitoring and can be mounted using our unique disposable, self-adhering mounting bracket, or by integrating the sensor into the customer's product. Moog's patented design enhances ease of use by enabling the sensor to be acoustically coupled to the outside of a rigid vessel wall without the use of coupling gels.
The LifeGuard Point Level Sensor is designed for far wall sensing on reservoirs ranging from 0.3" to 5.0" (7.6 mm to 127.0 mm) or near wall sensing based on customer's specific requirements. All LifeGuard level sensor electronics are integrated into the sensor housing, ready to interface with the user's system. Moog engineers can tailor our sensors to work with your specific reservoir.
Features of all LifeGuard Point Level Sensors:
ISO 13485:2003 quality service certification 
Sensors maintain precise sensitivity without calibration
All electronics are integrated into the sensor housing
Integrated self-test function provides 100% single fault coverage
Includes dry coupling polymer on mounting face
Sensor operation can be customized at the factory with minor PCB modification
Low power: 14-40 mW
Product Specifications
Sensor Order Number
29366-001
Mounting Bracket Order Number
40348-001
Standard Range
0.3" - 5.0" (7.6 mm - 127.0 mm)
Near Wall Range
Customizable for odd shaped reservoirs or sound absorbing contents
Sensor Dimensions
0.450" x 0.700" x 0.340" (11.4 mm x 17.8 mm x 8.6 mm)
Mounting Bracket Dimensions
0.875" x 1.075" x 0.460"
Standard Mounting Bracket
Disposable, self-adhering mounting bracket with removable "click-on" retaining cover mounts on flat surface or curved surface with radius of ≥ 3 inches (76.2 mm)
Custom Mounting
Mounting mechanism designed according to customer specifications
Operating Temperature
10° to 50° C
Operating Humidity
0% to 90% relative humidity
Supply Voltage
2.7 - 5.0 VDC
Supply Current
5.0 - 8.0 mA
Technical Support
Telephone
+1-801-974-7200