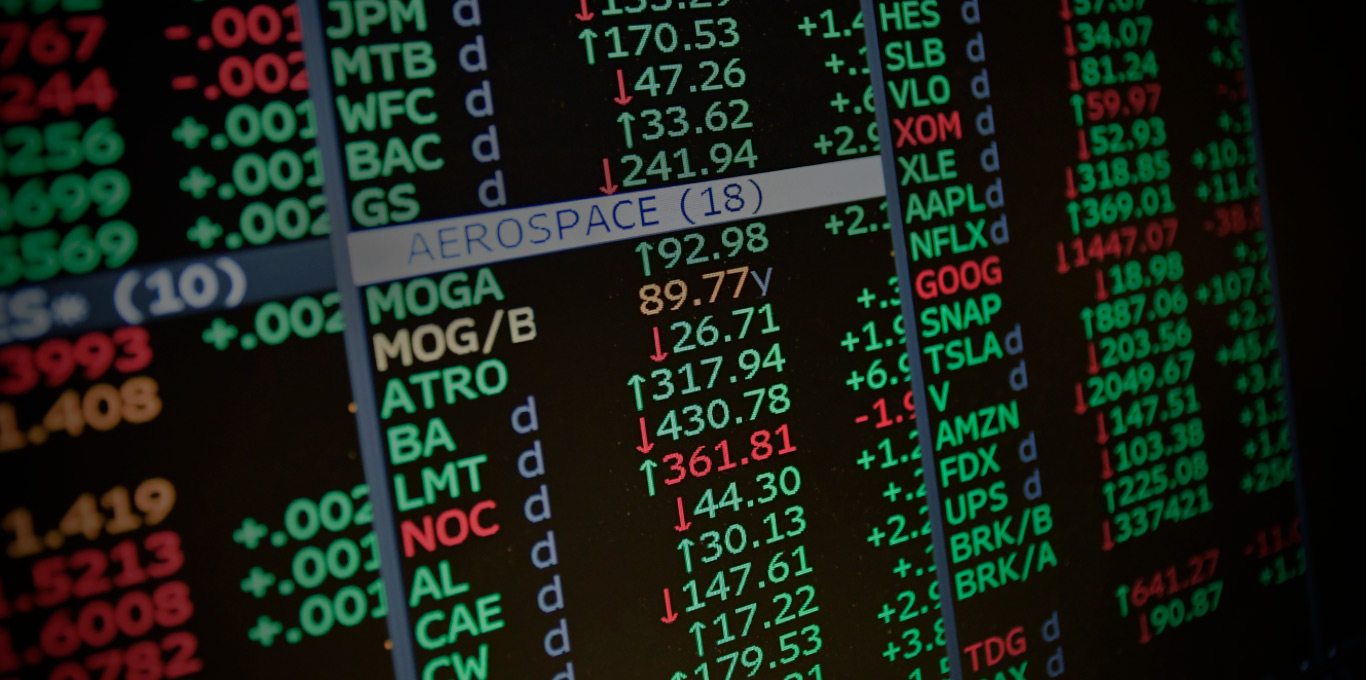 Investor FAQ
Moog Inc. is a worldwide designer, manufacturer, and integrator of precision control components and systems. Moog's high-performance systems control military and commercial aircraft, satellites and space vehicles, launch vehicles, missiles, automated industrial machinery, wind turbines, marine applications, and medical equipment.
Moog was founded in 1951 by Bill Moog, Art Moog, and Lou Geyer.
Where is the Company's headquarters?
Moog's headquarters are in East Aurora, New York. The company has sales and manufacturing facilities in twenty-six countries around the world.
What is Moog's ticker symbol?
Moog trades on the New York Stock Exchange under the symbols: MOG.A and MOG.B.
Who are the primary holders of Class A and Class B?
Large institutions hold the vast majority of Moog's Class A stock. Moog's current and past employees hold the vast majority of Moog's Class B stock.

What's the difference between Moog Class A and Class B stock? 
There are six basic differences:
Class A shares have limited voting rights with each share of Class A being entitled to one-tenth of a vote on most matters. Each share of Class B is entitled to one vote. 

Class A shareholders, subject to certain limitations, elect 25% of the Board of Directors with Class B shareholders entitled to elect the balance. 

Cash dividends may be paid on Class A without paying a cash dividend on Class B, but no cash dividend may be paid on Class B unless at least an equal cash dividend is paid on Class A.


In 2018, Moog initiated a dividend program under which The Company intends to pay a regular quarterly cash dividend to shareholders of its Class A and Class B stock. See the dividend page for details and payment dates.

Class B shares are convertible at any time into Class A on a one-for-one basis at the option of the shareholder but not vice versa. 

Class A trades on a regular basis. While Class B shares trade daily, the trade volume is lower. 

Class B was the original Moog Valve Common Stock and became Class B in June 1980 when Class A was created.
How can I sell my shares?
Shareholders of Moog Inc. Class A and/or Class B shares can sell Moog shares via our transfer agent, Equniti (EQ). Contact Equniti (EQ) by telephone at 1-800-468-9716. 
When is Moog's fiscal year-end?
The fiscal year of the company will end each year on the Saturday in September or October that is closest to September 30th.
What do I do if I have lost my Moog stock certificates?
Our transfer agent is Equniti (EQ). Contact them to report lost certificates at 800-468-9716. It is important that you initiate and complete the replacement process promptly in case you wish to sell your stock at a later date.
How do I replace a certificate or change the name on a certificate?
Legal changes such as name changes must be completed with the transfer agent. Specific forms and documentation are required. Please contact Moog or  Equniti (EQ) for assistance. More...
How do I transfer shares owned by a deceased shareholder?
To complete the transfer, Shareowner Services requires specific legal documents including, but not limited to, a stock power, Medallion Signature Guarantee stamp and stock certificates. Contact Moog IR or Equniti (EQ) for assistance. More...

Why am I receiving a notification of abandoned property and possible escheatment?
Escheatment is the term used to describe the transfer of property to a state when the property is deemed to be abandoned. Contract our transfer agent immediately if you receive an escheatment notification in the form of a letter regarding the status of your account. Call EQ at 800-468-9716. It is important that you maintain active contact with the transfer agent, vote your proxy each year, and cash your dividend checks. 
Note that even if you are a Moog retiree or current employee, shares held at the transfer agent or on certificates are separate property. Your participation in company events, credit union membership (MEFCU) or pension plan participation/contact are separate from activity or communication with our transfer agent. Don't ignore due diligence letters from Moog's transfer agent or employee plan administrators. 

Unclaimed property is any form of intangible personal property that goes unclaimed by the rightful owner after a specified period of time. This includes shares of stock (held in certificates or electronically), dividend checks, checking and savings account balances, brokerage and investment accounts, insurance proceeds and other financial assets. It also includes credit balances on consumer credit accounts (utilities, cell phones, department store accounts). 

If there is no owner-generated activity on an account for a specified period of time, or mail correspondence has been returned as undeliverable from the Post Office, then the property is said to be abandoned, or dormant, and the escheatment clock starts. If a company is unable to reconnect with or locate the rightful owner of the asset within a designated period of time, the property must be transferred – or escheated, to the proper state to hold until the rightful owner claims the property. Issuers like Moog can be audited and are subject to state fines for non-compliance.

Each state has its own set of rules and regulations governing how long property can remain dormant before it must be escheated and how it must be reported to the state. Certain states also have rules about proxy voting. In some states, failure to vote at least once every three years can affect ownership in terms of when property is subject to escheatment.  These requirements vary not only by state, but also by property type and industry. (For mor information on unclaimed funds, check your state comptroller's .gov website.)   Learn more about escheatment.
Can I buy stock directly from Moog?
We do not offer a direct investment plan. The least expensive and most efficient way for an investor to buy stock is through a low-cost broker-dealer who will execute your trade immediately. Shareholders of Moog Inc Class A and/or Class B shares can sell Moog shares via our transfer agent, Equniti (EQ) .Contact Equniti (EQ) by telephone at 1-800-468-9716. 
What is a CUSIP number and what is Moog's CUSIP number?
CUSIP is the acronym for Committee on Uniform Securities Identification Procedures. A CUSIP number identifies securities and facilitates the clearing and settlement process of securities. These instruments include: stocks of registered U.S. and Canadian companies, U.S. government bonds and municipal bonds. The CUSIP system is owned by the American Bankers Association and operated by Standard & Poor's. The number consists of nine characters of letters and numbers that uniquely identify a company, issuer, and the type of security.
The CUSIP Number appears on the upper right hand corner of a stock certificate. If you are transferring book-entry, or electronic shares, your CUSIP number appears on your most recent statement. Moog Class A Shares: CUSIP 615394202; Moog Class B Shares: CUSIP 615394301.
I received a Notice and Access of Materials letter/email instead of a hard copy Proxy, 10-K and Annual Overview. What does this mean?
Notice and Access is a change in the traditional way that proxy materials are made available to shareholders. It was approved by the Securities and Exchange Commission. Shareholders receive a letter or electronic notice of internet availability in lieu of paper copies of our Annual Report to Shareholders. The notice of internet availability provides instructions on how to access the documents on the internet and how to elect to receive a paper set. For an annual meeting, public companies traditionally mailed the Annual Report to Shareholders (10-K), meeting notice, proxy statement and proxy card. Today, we use the "notice" to provide information on accessing the annual meeting materials. You will not receive a full set of paper annual meeting proxy materials unless you submit a request using the instructions printed on the notice. If you sign up to receive proxy materials in paper form, we are required to follow your instructions until you request a change to electronic. Electronic availability enables us to more cost effectively provide the information while reducing the environmental impact and cost associated with printing and mailing thousands of paper copies.
Householding offers public companies the ability to combine annual meeting materials into a single mailing to multiple recipients residing at the same address. It reduces our costs for the printing, handling and mailing of Annual Reports and Proxy materials to shareholders.

I thought I sold all of my Moog shares. Why am I receiving an annual report and proxy statement?
If you are still receiving mail from us, you should check with our transfer agent to see if you are holding shares. You may have a few shares on a certificate or held in your account in direct registration at the transfer agent. Contact Equniti (EQ) by telephone at 1-800-468-9716. 
When did Moog split its stock?
11/1/1965 6 for 5 split

2/16/1973 10% distribution

2/28/1978 1 for 10 split

10/27/1978 1 for 2 split

2/28/1979 1 for 10 split

11/23/1979 1 for 5 split

6/12/1980 3 shares of Class A were issued for every 4 shares of Class B

12/19/1980 1 for 2 split – both classes

8/24/1984 A portion of the company was spun off resulting in the issuance of MHP stock

8/24/1984 1 share of MHP Machines stock for 8 shares of A or B
Note: MHP subsequently went out of business in 1992.

9/24/2001 3 for 2 split - both classes

2/17/2004 3 for 2 Split – both classes

3/18/2005 3 for 2 split - both classes
Did Moog Inc. invent the Moog Synthesizer?
No, the synthesizer was invented by Robert Moog, a genius inventor and a cousin of Bill Moog. 
Is Moog affiliated with the automotive company?
No. Moog Automotive is owned by Federal Mogul. 

Moog Automotive is a wholly separate company, not related in any way to Moog Inc.
Researching Moog.com for Careers?
Our Company Culture is a big reason for Moog's success over the years. When we conduct interviews, they are always on the phone, through video conference, or in person. We want to get to know you personally so you'll never conduct an interview with a Moog hiring manager or recruiter in a chat room. Note that we will never ask you for personal financial information during the interview process.
Investor Relations - Contact Us