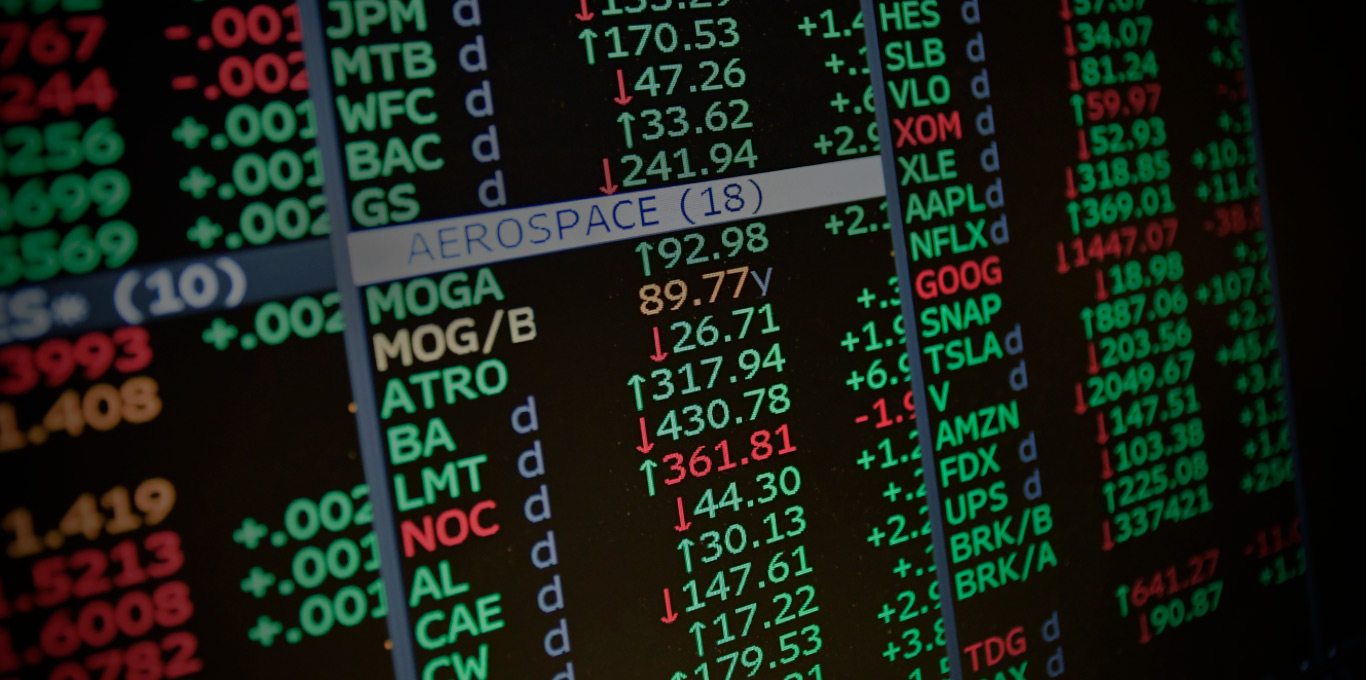 Your Shares
Our shares trade on the New York Stock Exchange under the symbols: MOG.A and MOG.B.
Transfer Agent and Account Access
Our transfer agent is Equniti (EQ). Please contact 
them by telephone at 1-800-468-9716, or register your account on their Shareowner Online website. This is a secure website that allows shareholders to view account information, make transactions and update basic account information.
Dividend and Dividend Tax Information
Dividend History and Tax Information
Tax reporting information for registered shareholders will be sent by Equinity for shares held at our transfer agent (EQ, formerly Wells Fargo Shareowner Services).
Moog Employee Stock Purchase Plan participants will receive tax information from the Plan Administrator, Computershare.
Shareholders who hold shares in a brokerage account will receive tax information from their brokerage firm.
Announcement Date

Record
Date

Payment
Date

Dividend
Amount

2/29/2022
5/13/2022
5/31/2022
$0.26 per share
1/28/2022
2/11/2022
2/28/2022
$0.26 per share
11/5/2021
11/19/2021
12/6/2021
$0.25 per share
7/29/2021
8/13/2021
8/30/2021
$0.25 per share
4/30/2021
5/14/2021
6/1/2021
$0.25 per share
1/29/2021
2/12/2021
3/1/2021
$0.25 per share

11/6/2020

11/20/2020

12/7/2020

$0.25 per share

7/24/2020

8/14/2020

9/4/2020

$0.25 per share

1/24/2020

2/14/2020

3/2/2020

$0.25 per share

11/1/2019

11/15/2019

12/2/2019

$0.25 per share

7/26/2019

8/15/2019

9/3/2019

$0.25 per share

4/26/2019

5/15/2019

6/3/2019

$0.25 per share

1/25/2019

2/15/2019

3/4/2019

$0.25 per share

7/27/2018

8/15/2018

9/4/2018

$0.25 per share
3/15/2018
5/15/2018
6/1/2018
$0.25 per share
Selling Your Shares
Shareholders of Moog Inc Class A and/or Class B shares can sell Moog shares via our transfer agent, Equniti (EQ). Contact Equniti (EQ) by telephone at 1-800-468-9716. 
Address Changes



Please change your address by contacting Equniti (EQ) by telephone at 1-800-468-9716, or Moog Inc. Investor Relations at 716-687-4225.
If you move, please remember to update your mailing address with Equniti (EQ) just as you would for a bank account or other investment account.
Account Name Changes and Distributions
The Equniti (EQ) website also provides answers to the most frequently asked questions about holding certificates, lost certificates, name changes and estate requests–including transfer instructions. Learn more
Legal changes, including name changes and estate distributions, must be completed by our transfer agent. Specific forms and documentation are required. Please contact Moog or Equniti (EQ) for assistance.
Direct Registration System
The Direct Registration System (DRS) is an electronic paperless system managed by our transfer agent. This allows investors to move book-entry shares electronically from street name to the registered owner's name on the books of the corporation, or from the registered owner's name to street name. 
DRS eliminates the physical movement of paper stock certificates at the time of sale or transfer of ownership. The advantage: DRS/Profile shares are in book-entry form, minimizing expenses related to overall stock certificate issuance (specifically the cost of physical certificates, insurance and processing).
Paper stock certificates are valuable documents and must be protected. An alternative to paper certificates is a book-entry account direct registration account at the transfer agent. This eliminates the risks associated with holding paper certificates. Book-entry is a safe, free and convenient way to manage your ownership of stock. 
Transferring Shares
Transfer requirements are very specific. Shareholders should follow all stock transfer instructions carefully and completely and keep a copy of all forms and correspondence. 
Note: When mailing paper stock certificates use only registered mail and request a return receipt. 
Submitted documents are kept as a permanent record of transfers. If you are enclosing stock certificates, they should be insured for 2% of their market value, as this is the potential replacement cost if the certificates get lost. 
Transfer requirements are listed on the Equniti (EQ) website. Learn more
Medallion Signature Guarantee
As part of the stock transfer process, you may be required to obtain a Medallion Signature Guarantee on your stock transfer form from an institution that belongs to the Medallion Stamp Program. 
The Medallion program ensures that individual(s) signing a stock transfer form is/are in fact the registered owner(s) or authorized representative. 
Any U.S. financial institution that belongs to the Medallion Stamp Program may provide medallion signature guarantees (institutions include banks, credit unions, savings and loans and U.S. brokerages). 
Our transfer agent will reject requests submitted without proper certifications and paperwork. Please note that a Notary Public certification is not acceptable for this purpose. 
Common Shareholder Ownership Legends
Shareholders have a number of ways to register their accounts. These include various forms of account and/or certificate name registrations. Some of the more common types of ownership are listed below.
Please note that specific requirements may apply when making name changes to share certificates or DRS accounts. Learn more
Individual Single Owner – Example: John J. Public Transfer on Death (TOD)
Example: John Public TOD Mary Public Under TOD, the owner retains normal rights of ownership during his or her lifetime. The TOD registration enables the owner to determine an individual or other entity that will automatically become the owner upon the death of the current owner. The security passes to the beneficiary outside of probate. 
Specific registration requirements may apply. Contact Equniti (EQ) for requirements and restrictions. 
Joint Tenant with Right of Survivorship – JT TEN or JTWROS
Examples: John Public and Mary Public JT TEN or John Public and Mary Public JTWROS 
Joint Tenants in Common – TEN COM 
Example: John Public and Mary Public TEN COM 
Custodial – UTMA or UGMA 
Examples: Mary Public Custodian for John Public, Uniform Gift to Minors Act NY or Mary Public, Custodian for John Public, under the NJ Uniform Transfers to Minors Act
Transfer requests should be sent to one of the addresses below.  If the stock is held in certificate form, we suggest you use registered mail, insured for 2% of the current market value of the shares. Use delivery confirmation/signature and tracking when sending paper certificates.
Mail:
Shareowner Services
PO Box 64874
St Paul, Minnesota 55164-0874
Courier:
Equniti (EQ)
1110 Centre Pointe Curve, Suite 101
Mendota Heights, MN 55120
Moog Shareholder Bulletin: Escheatment
If you are a Michigan, New York State, Delaware, Illinois or Connecticut  resident and you hold your shares in certificate form or in book entry at our transfer agent, Equniti (EQ), you may receive notifications regarding the status of your holdings. This also applies to foreign holders under New York law.
Under certain state laws you must maintain active contact with the transfer agent and vote your proxy each year or your account could be considered abandoned. Please contact Equniti (EQ) for more information at 800-468-9716.
Please also note that uncashed dividend checks are subject to escheatment after a period set by each state. Visit your state's unclaimed property .gov web site or the .gov site maintained by your state comptroller or treasurer to check for unclaimed/escheated property.
Investor Relations - Contact Us