Welcome to Moog Components Group
Moog Components Group provides innovative design and manufacturing capabilities in motion, electronics and fiber optics. Both standard and custom product solutions are applied in industrial, commercial, medical, marine, aerospace and defense applications.
Product Spotlight
Moog Components Group has taken the next step in providing innovative and unmatched solutions for applications that require gimbal actuation. As the aerospace and defense industries continue to expand the limits of high performance, reliability and compact product designs, Moog now offers higher level solutions that maximize performance of individual components and integrates them into an efficient packaged option.

Featured Market
Today's aerospace and defense markets are changing to meet a new generation of global requirements. Highly performing products must operate in extreme environments. Moog offers unique design and manufacturing capabilities in motion, fiber optic, and electronic components to the aerospace and defense segments.
Moog Components Group products are used on numerous defense platforms, including commercial and military aircraft, radar, missile and air defense, and armored vehicles. 

Upcoming Trade Shows
Undersea Defence Technology Conference
May 30 - June 1, 2017 | Bremen, Germany
Paris Air Show
June 19 - 25, 2017 | Paris, France

M-Tech
June 21 - 23, 2017 | Tokyo, Japan
Moog Components Group Blog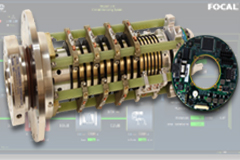 Reducing ROV Operating Costs and Enhancing Reliability with Monitoring Technology
Learn how Moog Focal's condition monitoring technology helps ROVs avoid downtime while performing demanding construction, inspection and repair operations around the globe.

Paris Air Show
Moog will be exhibiting at the Paris Air Show at Le Bourget Parc des Expositions from June 19-25, 2017.