Moog Webinar: Analyzing Root Cause of Motion Control Problems Improves Machine Uptime
4 November 2015

The Industrial Group of Moog Inc.  will host a webinar titled "Analyzing the Root Cause of Failures Improves Machine Uptime" on November 16 at 10 a.m. ET. The webinar's expert panellists will present case studies where indicators such as contaminated oil, worn actuator shafts or scarring of a cylinder shaft were hiding the root cause of failure in motion control products or industrial systems.
"Root cause analysis is the process of gathering and examining data to pinpoint why something fails," says Scott Scheffler, product marketing manager for Moog Inc. and a panellist for the webinar. "The best engineering teams go beyond servicing components; they recommend system improvements and maintenance programs aimed at decreasing downtime, minimizing repair costs and increasing productivity."
When it comes to root cause analysis, customers can benefit from having the original equipment manufacturer work on the problems. Not all component makers can (or want to) analyze your equipment failures beyond the repair stage. But some companies truly are solution providers; these companies have the know-how, resources and desire to improve how your technology is operating, not just make a repair.
Moog will present two case studies where root cause analysis was used to improve products. In many new applications, the motion control requirements may not be completely defined in advance or the way products are used may change over time. Moog collaborates with its customers to observe products in the field, apply root cause analysis and make improvements that result in higher reliability and longer service life.
 During the webinar, the panellists will explain how root cause analysis can:
Improve your operations and maintenance activities by reducing downtime
Work as a collaborative process between functional groups and organizations
Improve motion control products and systems through applying data for higher reliability
Transform maintenance from reactive to proactive.
Register for the webinar today
Photos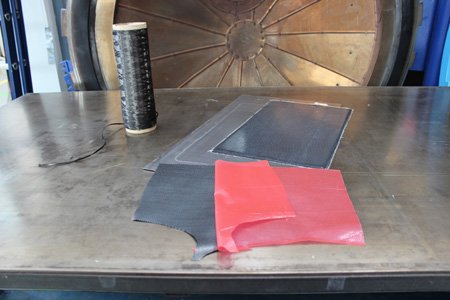 Caption:  Sample of a dye-penetrant inspection by Moog to determine root cause of failure in a machine part.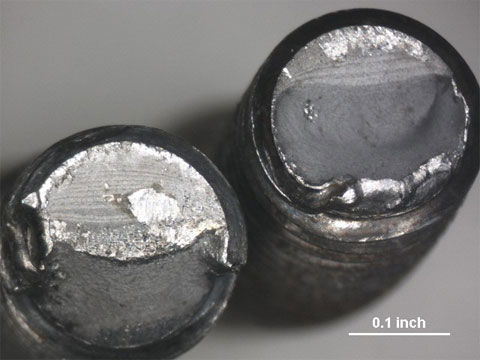 Caption: A Moog inspection shows the fractured surfaces of a bolt due to stress failure