Special Systems designed to match your exact application
When you require a performance envelope that has to be customized we can certainly meet your needs here.  With special payloads, stroke lengths, or motion cueing changes Moog can deliver to exceed our standard systems.
Do you need different degrees of freedom or applications:
MB-EP-2DOF/3400KG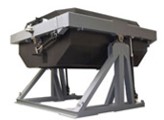 Capable of handling Gross Moving Load of 3,400 kg (7,495 lb), two 50 in. and two 20 in. stroke electric actuators. Cabin can realize roll angles up to ± 30 ° degrees, Gimbal-Cabin assembly can pitch up to ± 45 °.
MB-EP-5DOF/8/3000KG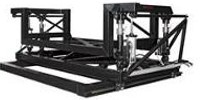 Train simulator capable of handling Gross Moving Load (GML) of 3,000 kg (6,614 lb), comprised of four 8 inch stroke electric actuators, two 8 inch pneumatic actuators, one 20 inch electric actuator for the lateral rail.
Other special systems that you may want to talk to us about:
Extra Light Payload    Seat Shaker
8-DOF System with      Tilt Table