Moog Develops Innovative Fuel Tank Test System for Fiat Group Automobiles (FGA)
26 June 2013
Moog Industrial Group delivered an innovative fuel tank test system to the Fiat Group Automobiles (FGA). The system is designed to perform dynamic functional tests on automotive fuel tanks, with the ability to simulate real-world road conditions. The behavior of the liquid fuel and components of the fuel tank system can be tested and evaluated. The test results will allow FGA to optimize the desired configurations and verify the design of specific fuel tank systems.
1 Patent-pending  The 8-DOF (degrees of freedom) Moog test system is comprised of a 6-DOF Electric Simulation Table with an innovative extra 2-DOF tilt table on top for increased pitch and roll motion. The Electric Simulation Table is used to reproduce the higher frequency road profiles, where the tilt table can simulate the cornering and acceleration behavior of the vehicle.
This enables FGA to include different conditions during driving that lead to extreme fuel-sloshing effects, such as mountain driving, instant braking or very sharp cornering maneuvers. In addition, the Moog Replication and Moog Sinesweep Test Module software will enable FGA to replicate and play out time history drive files that were recorded at the test track or perform resonant-frequency research.
"We look forward to testing the functionality of our fuel tanks in a realistically simulated environment. We expect that the Moog test system will increase the speed of testing and save cost, because we can limit the use of outdoor test tracks. The laboratory setting will allow us to setup tests faster and to run the test programs whenever we need to and under repeatable conditions," says Luigi Di Matteo – FGA Research & Development - Engine Systems Testing Responsible.
"With this high-performance test systems provided by Moog, Fiat now has the capability to realistically simulate the fuel tank motions. This should allow Fiat to accelerate their product development and quality test projects", says Thomas Hale, market manager Test, Moog Europe.
An Electric Simulation Table (sometimes referred to as multi-axis shaker table) is designed to perform product development tests and driver simulation research. Position, velocity and acceleration are controlled by the system through integrated control hardware and software. In addition to the electric actuators of the simulation table the new tilt table features two electric actuators for increased pitch and roll motions up to 30 degrees. The total pitch and roll angles of the test system exceed 50 degrees.
Other types of tests typically performed with the Moog Electric Simulation Table are: driving simulation, ride and comfort testing, qualitative evaluation of human response, vehicle components, NVH (noise, vibration and harshness), BSR (buzz, squeak and rattle testing), functional testing (e.g. turret and antenna testing) and medical research.
 1 U.K. Patent Application No. 1300552.5 filed and pending as of January 14, 2013.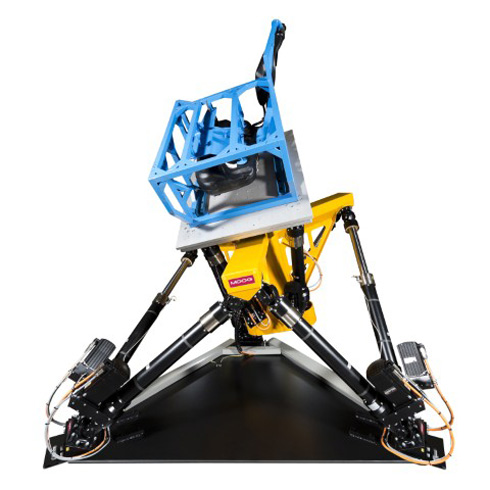 Photo caption: Moog Fuel Tank Test System (patent pending U.K. Patent Application No. 1300552.5)