James Fisher Nuclear Selects Moog Motion Control System for Moduman 100 Manipulator Arm
9 September 2013
Moog Industrial Group has supplied a motion control system and engineering services to James Fisher Nuclear Ltd (JFN) for the ModuMan 100 Manipulator Arm which will be used for nuclear decommissioning.
A manipulator is used to grasp and move materials without direct human contact. Typically a manipulator is an arm-like device with a number of degrees of freedom. They are used to deal with radioactive or bio hazardous materials, in places that are inaccessible, or for applications such as surgery and in space.
JFN identified an opportunity to develop and supply an easy-to-service and durable manipulator arm that assists in the management of nuclear waste stored at various sites throughout the UK. JFN approached Moog in the UK for the hydraulic motion control system including modelling and simulating the product design. Moog's engineering knowledge, control software and servo controller technology ensured the manipulator arm could deliver a 6-axis solution with accurate motion.
The arm is a powerful 6-axis hydraulic manipulator designed for use in the nuclear decommissioning industry. It delivers 100 kg (220 lb) lifting capability throughout its reach of 2.3 m (90.5 in) and accesses radioactive waste through a standard 270 mm (10.6 in) diameter port. It comes with 3 operating modes (e.g., Joint, Tool and World) with options for "Taught Paths" and "Collision Avoidance." It employs reliable industrial components including resolvers, actuators, servo valves and sensors that are integrated and driven by a sophisticated software controller.
The Moog control system is comprised of the following Moog designed and built products: Two Servo Controllers II (MSC II), three Servo Controllers I (MSC 1, twoServo Drives (MSD) and Motion Control Software. The system enables shoulder joint rotation of  ±130º, Shoulder Pitch ±90 º, Elbow Pitch of ±130 º, Wrist Rotate ±130 º, Wrist Pitch ±130 º, Continuous Tool Rotate and End Effector grip width of 0-150 mm (0-5.9 in).  All key Moog motion control components are located outside the radiated area.
Matthew Journee, JFN Operations Manager: "We designed ModuMan around conventional hydraulic actuators coupled with proven industrial instrumentation and control elements to ensure robustness. To ensure maximum maintainability, we also decided to locate vital control elements outside the operating cell. The successful collaboration with Moog helped us to deliver the required product performance. The first ModuMan 100 has been shipped to the end user to commence evaluation and trials at a UK nuclear test facility."
Andrew Smith, Moog Applications Engineer said: "We are pleased that our engineers and motion control products successfully assisted James Fisher Nuclear in the product development of the ModuMan 100 manipulator. Clearly two specialities came together. James Fisher Nuclear's specialty in engineering, manufacturing and technical services for applications within challenging environments or with high integrity requirements and Moog's specialty in designing and building reliable motion control products proven in extreme environments such as wind energy, oil and gas exploration and steam turbines."
About Moog
Moog Inc. is a worldwide designer, manufacturer, and integrator of precision control components and systems. Moog Industrial Group, designs and manufactures high performance motion control solutions combining electric, hydraulic, and hybrid technologies with expert consultative support in a range of applications including energy production and generation machinery, industrial production machinery and simulation and test equipment. We help performance-driven companies design and develop their next-generation machines. Moog's Industrial Group, with fiscal year 2012 sales of USD 634 million and over 40 locations worldwide, is part of Moog Inc. (NYSE:MOG.A and MOG.B) which has sales of USD 2.47 billion. For more information please visit www.moog.com/industrial.
About James Fisher Nuclear Limited
James Fisher Nuclear Limited is a member of the James Fisher and Sons plc group. James Fisher Nuclear (JFN) is an established supplier of specialist engineering, manufacturing and technical services for applications within adverse and challenging environments or with high integrity requirements.
James Fisher Nuclear operates from 6 locations: Egremont, Malton, Worcester, Leyland Sittingbourne and Queensferry/Deeside. JFN's customers are typically engaged in operations to support highly regulated industries spanning, nuclear, aerospace, processing and defence.
As an equipment supplier, JFN delivers a comprehensive range of services to high integrity industries as discrete, standalone packages, or combinations from consultancy, design, analytical analysis (stress / mechanisms / thermal etc) to peer review, build to print manufacture, and equipment refurbishment and upgrades.
JFN has extensive practical experience in trialling and perfecting equipment in a rig-hall environment, rehearsing and training operatives for work in a hostile environment, practical development of innovative solutions.
For further information on Moduman100, please visit:https://www.jfnl.co.uk/files/7213/4685/0038/ModuMan100.pdf.
Photo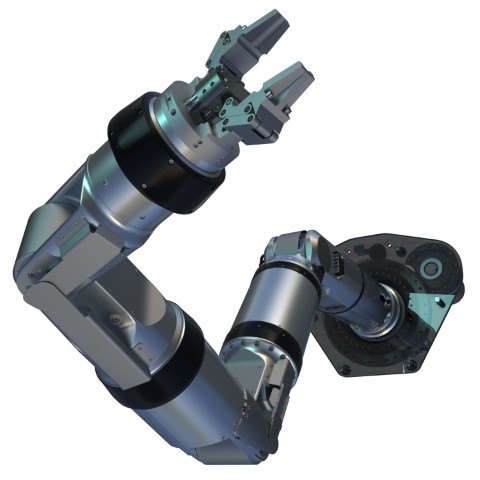 Photo caption: James Fisher Nuclear (JFN) Moduman 100 Front View Assembly