ESPA 20th Anniversary Users Guide
Mountain View, CA 18 January, 2019 - Moog Space and Defense Group is celebrating the 20th anniversary of the EELV Secondary Payload Adapter (ESPA).  The ESPA began development in January 1999 and successfully completed its Critical Design Review (CDR) on January 18, 2001 when a team of 50 people from across the industry and the US Government approved the design that helped change the way satellites are launched into space.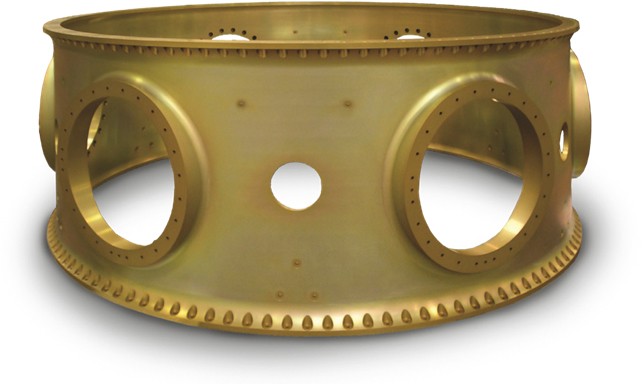 Moog Photo Caption: Standard ESPA
ESPA was first launched on STP-1 for the US Air Force's Space Test Program in 2007.  This launch carried one large spacecraft in addition to four smaller spacecraft. This was a significant change in the industry, beginning the trend of ESPA-Class spacecraft defining a whole new standard of spacecraft properties.
ESPA has been used in many novel ways including being the primary structure of a spacecraft.  This was demonstrated with the NASA LCROSS mission that proved there is water ice in the poles of the Moon. 
ESPA enables new mission types and business models that previously could not be performed cost-effectively.  Entities such as the US Air Force, NASA, NOAA, and commercial space companies are architecting mission solutions using the ESPA for its building block architecture.
"I couldn't be prouder to see how far ESPA has come over my career," said Joe Maly the ESPA Product Line Manager and original Principal Investigator for ESPA, "including watching the most recent launch of our 11th ESPA on Spaceflight Industries SSO-A mission in December 2018."
To celebrate Moog just released its first ESPA Users Guide providing capabilities and technical information for mission designers, spacecraft developers, and launch service providers.
Moog Inc. is a worldwide designer, manufacturer, and integrator of precision control components and systems. Moog's high-performance systems control military and commercial aircraft, satellites and space vehicles, launch vehicles, missiles, automated industrial machinery, wind energy, marine and medical equipment. Additional information about the company and its Space business can be found at www.moog.com/space.