The Moog Simulation Table Continues its Worldwide Success at the R&D Center of Car Rack Maker Kemflo in China
17 December 2012
Moog Industrial Group has installed a Hydraulic Simulation Table for car rack testing at the research and development center of Kemflo International Co. Ltd, in Nanjing China. Kemflo uses the simulation table to simulate the stresses that automotive accessories, such as car racks, undergo on the road.
Kemflo, a Taiwan based manufacturer of plastics and metal products for water treatment, plumbing and other sectors, expanded into the market for automotive accessories in 2009 by acquiring the U.S. based company Yakima Products, producer of car racks and cargo boxes. When Kemflo decided to establish its R&D center in Nanjing, Moog analyzed the company's needs, confirmed the auto-testing specifications and proposed a fitting solution.
As a result Moog provided Kemflo with a 6 DOF (Degree of Freedom) Hydraulic Simulation Table, a hydraulic substation and the Moog Integrated Test Suite software. It also recommended third-party suppliers of equipment such as hydraulic pump stations and high/low temperature environmental chambers. Moog was responsible for the integrated installation of the overall system, and also provided the Kemflo testing team with a series of training services, including basic operation and advanced testing technology.
Kemflo uses the Moog Hydraulic Simulation Table to simulate the many different kinds of road conditions that its car racks may encounter. The platform can rotate around the x-, y-, and z-axis to carry out vertical, lateral and horizontal movement as well as pitch, horizontal swing and lateral rotation. Kemflo's tests involve installing the roof of the car with a Kemflo car rack on the platform of the simulation table. By simulating acceleration, force and displacement outputs, the simulation table effectively recreates the data normally collected from the proving ground.
Moog and Kemflo completed the entire delivery and installation process for the Hydraulic Simulation Table--including constructing the simulation table and installing equipment and deploying the simulation table--in less than five months. To ensure Kemflo met its planning schedule, Moog also coordinated with suppliers of the hydraulic stations and climatic chamber.
Kemflo can now carry out a series of tests for car-rack fatigue, durability and performance in its Nanjing R&D Center. High frequency vibration testing with the Moog test system enables Kemflo to shorten the time taken for product testing, and to ensure the quality of products as well as their compatibility with products of OEM customers.
Eugene Lin, Kemflo's special assistant to the president, says, "Moog provided Kemflo with a strategic, complete solution. Moog's products and services are thorough and professional. A director at one of our primary OEM customers recently affirmed Moog's strength as a supplier. This testing system will boost our market competitiveness."
"We were able to help Kemflo because we have more than 40 years of experience with automotive testing, an in-depth understanding of customer needs and employees in close proximity to Nanjing who can provide service," says Tom Pierce, business development director, Simulation & Test, Moog Asia Pacific. "We hope this project leads to more Chinese customers, especially auto OEMs and parts customers."
Kemflo International Co. Ltd
Kemflo International Co. Ltd. is a Taiwan based manufacturer of plastics and metal products for water treatment, plumbing and other sectors. The company acquired Yakima Products, a U.S.-based producer of car racks and cargo boxes in 2009.


Caption: Moog Hydraulic Simulation Table for Car Rack Testing, Research and Development Center of Kemflo International Co. Ltd., Nanjing China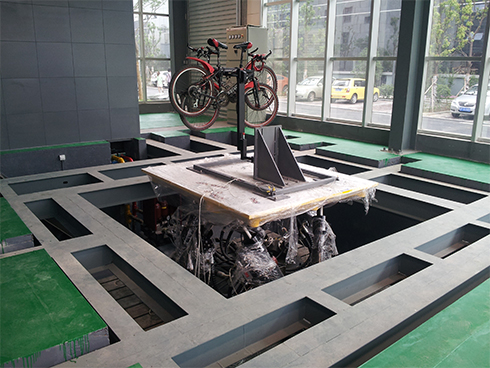 Caption: Moog Hydraulic Simulation Table with a Bike on a Car Rack for Testing, Research and Development Center of Kemflo International Co. Ltd, in Nanjing China