Fiber Optic Multiplexing
To exploit the full bandwidth of fiber, multiplexing combines many signals of various types — video, serial data, network data, control lines — onto one optical fiber. Two methods are used to accomplish this:
Time Division Multiplexing (TDM) – Signals are combined in dedicated low latency electronic hardware prior to conversion to optical fiber
Wavelength Division Multiplexing (WDM) – Multiple optical wavelengths are combined onto a single fiber
Both multiplexing techniques can be used separately or together to simplify optical transmission systems and reduce cost, improve reliability, reduce weight and improve performance. Multiplexed systems also simplify system upgrades since numbers of channels and channel bandwidth is a function of the electronics rather than the transmission line or components. The Moog Focal multiplexer product line accommodates the ever-increasing data rates needed for digital HD video, industrial data protocols, and high speed networks such as Ethernet.

Technical Support
Telephone:  +1-902-468-2263

Visit the Blog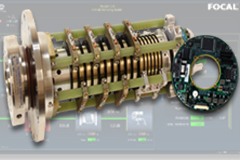 Reducing ROV Operating Costs and Enhancing Reliability with Monitoring Technology
Learn how Moog Focal's  condition monitoring technology helps ROVs avoid downtime while performing demanding construction, inspection and repair operations around the globe.

Focal Support Documentation