Engineering Spotlight: Matt Allen
Matt Allen, Systems Engineer - Moog Aircraft Innovation and Technology Group, is our next feature in the ongoing Engineering Spotlight Series. Like Katelyn Cerankosky, our last Spotlight Engineer, Matt joined Moog straight out of college and easily integrated himself into the Moog culture.
Child Engineer
At an early age, "I was interested in how stuff works," said Matt. Along with his father and uncle, he built potato guns, electromagnets and even a four foot tall Trebuchet (fancy name for a catapult). He participated in FIRST Robotics in high school, where he assisted with the mechanics of building a robot that was autonomously controlled by sensor feedback to execute a complex game, against other robots. Through this amazing experience, his desire to go into engineering as a career was cemented.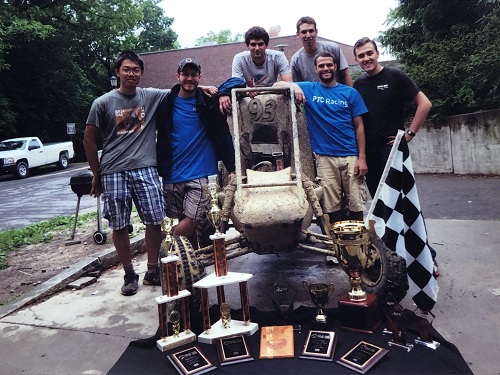 College Experience

In 2010, Matt enrolled in the Mechanical Engineering program at Cornell University. While there, he participated in the BAJA SAE Competition, which was a practical application of the theory he was learning in class. During the competition, Matt and his team designed and built an all-terrain vehicle intended to outperform the designs of 100 other colleges and universities from around the world. The competition was focused on designing and building the vehicle and competing in three separate two-day tournaments. These consisted of design presentations, acceleration, maneuverability and suspension events, and finally a four-hour endurance race. He thrived in the team environment and gained experience that was directly applicable to industry, developed skills in conflict resolution, task delegation, fund-raising and budgeting. "The icing on the cake," he said, "was that my senior year we won the Iron Team award for the highest cumulative season score in all events!"
Co-Op at Spacex
Outside of the classroom, he participated in two Co-Op programs – at the Alden Fluid Flow Laboratory and Spacex. At Alden, Matt built a 1/12 scale model of a power plant's exhaust system. The purpose was to perform a scaled analysis and determine where to place flow-adjusting devices.
The Spacex experience was a bit flashier, and Matt lived in an apartment with other Co-Ops in Marina Del Rey near the beach. His days averaged 12 hours – leaving little time for the beach! While at Spacex, he participated in the Dragon Structures group, working on a parachute attachment mechanism for the Dragon capsule. "It was a crazy experience engineering components that an astronaut's life will rely on, while sitting 100 feet away from the rocket being assembled to carry them into space."
Student to Employee
While at Cornell, Matt met two future Moog engineers, Alex Masetti and Andrew Crego – team members on the Baja Team. It was through Andrew Crego that Matt heard about Moog for the first time. He was intrigued because, in his words "aerospace is king; it's an awesome field." Soon after, he attended a Moog career fair on campus. At the fair he chatted with Moog representatives, examined the hardware they had brought with them and left feeling very excited about a possible career at Moog. An interview ensued, an offer was made, and before he knew it, Matt was working at the Moog East Aurora, NY campus in Supply Chain Engineering.
The Moog Experience
Starting out in Supply Chain Engineering was a different experience, as the day-to-day tasks involved assessing products made outside of Moog and assisting the suppliers with manufacturing challenges, versus designing products yourself. While enjoying getting his feet wet, Matt was soon up for a bigger challenge, and moved into a role working in the G600 test lab. In the lab, he saw the tail end of the design-to-manufacturing process and focused on working out any kinks that would prohibit the system from passing certification.
"One of the things I love about Moog is that it allows you to explore different facets of the engineering discipline. I feel lucky to have managers support me in finding a career that is both stimulating and plays to my strengths, even if that means a change of departments." This led to his current position in the Innovation and Technology group, where he works primarily with the development of autonomous systems. One such system, lovingly dubbed "Lucy," is being developed to pilot a helicopter through takeoff, execution of waypoints and different flight regimes, and landing. Testing this system is done both in a simulated environment on the iron bird that sits in the Innovation Lab, and in the air on a R44 helicopter. This exciting role has Matt at the cutting edge of innovation as Moog pushes forward to provide new solutions to the rapidly evolving aerospace market.
Advice to Future Engineers
To those thinking about, or already training to be an engineer, Matt offers some sage advice. "Join a project team. Find people interested in the same things as you. If there isn't a team readily available – found one!" As he looks back at his engineering study, he also cautions students to maintain balance. "It's easy to get caught up in the dog-eat-dog world of engineering," he says, "but there's a lot to be said for getting out in nature, having non-engineering related hobbies,., and staying balanced."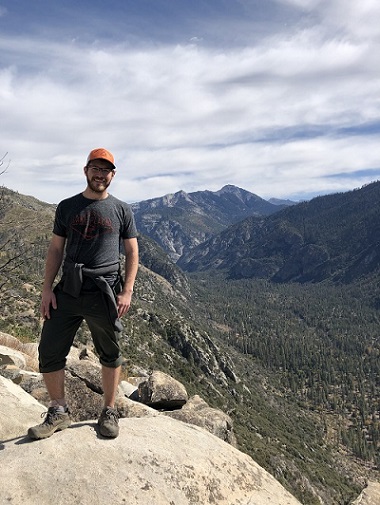 On a Personal Level

While engineering is his main passion, Matt does enjoy life outside of work! Running, biking, camping and hiking are some of his favorite pastimes. He has completed 13 of the 46 Adirondack Mountain Range climbs, and has aspirations to summit them all. Matt looks forward to a long career at Moog and is certain to be a major contributor to the company's success in the future.