Engineering Spotlight: Raymond Tayoto
This eighth edition of our Engineering Spotlight series finds us back in the sunny Philippines to feature Raymond (Mon) Tayoto. Since 1997, Mon has been an integral part of the Baguio team, climbing the ranks and mirroring both a hard work ethic and a passion for learning.

Early Inspiration
As a young boy, Mon would help his father Renato by holding a flashlight or handing tools to him as he fixed an electrical socket or fan, at either his own home or a neighbor's. Though he worked at a communications company, his father started out as a tradesman and carried that passion with him through life, often spending weekends on repair projects. This inspired young Raymond, as he transitioned from holding a flashlight or handing tools to wielding a hacksaw to cut through a refrigerator's compressor motor housing.
During high school, he discovered various theories that intrigued him, such as why a motor runs, or why electricity flows in a specific direction. Interest in these principles pushed him to investigate how more and more things worked. This included all sorts of large equipment and he spent time analyzing and breaking down systems to determine how they worked.
Putting his theories and investigation to the test, he has overhauled a two-stroke motorcycle engine, Volkswagen flat-four engine, and a Daihatsu Charade engine. He says, "I enjoyed doing these projects and typically had most of the tools I needed, which have since been broken, misplaced, or borrowed. When I didn't have a tool, I improvised."
In addition to his desire for learning, his uncle was a mechanical engineer by trade. Mon thought it logical for him to pursue engineering and the passion for projects his father had instilled.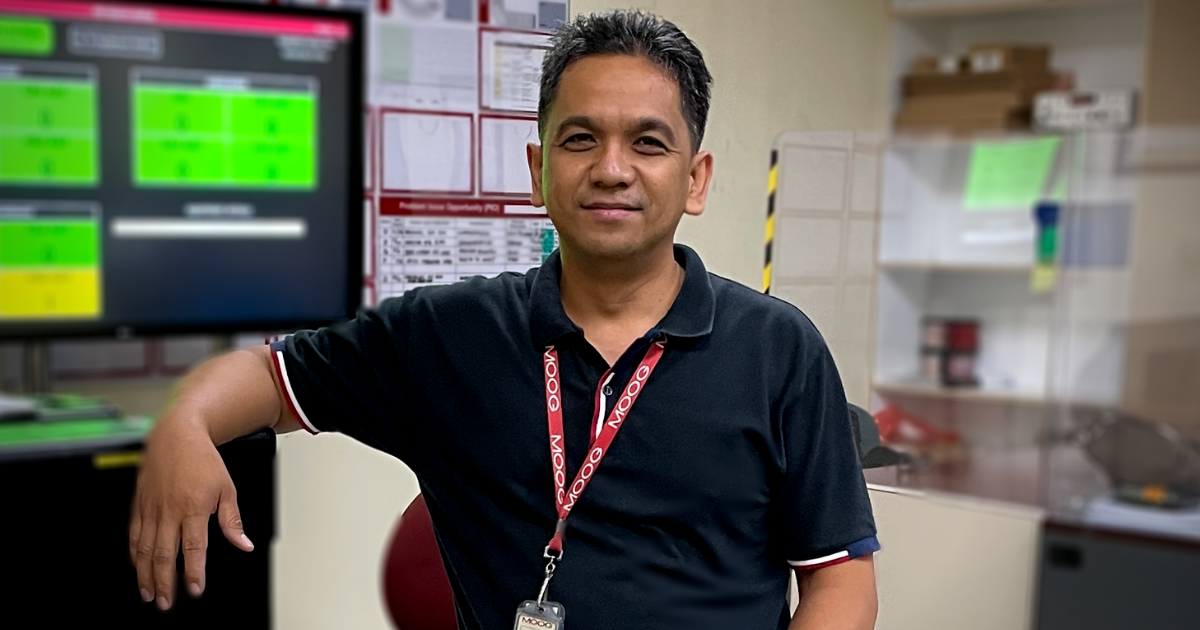 College Experience
Mon attended St. Louis University in Baguio for Electrical Engineering. While there, he delved into the deeper facets of electronics and was particularly intrigued by control systems. It gave him a new perspective on what the other engineering fields can offer. One of the subjects he also enjoyed was Industrial Electronics because he could see its wider application.
As part of the Electrical Engineering course in his later years in college, he joined a field trip that toured hydropower and electrical distribution plants, further cementing his interest in the Electrical Engineering discipline. He graduated in 1997 and started the job search.
Finding His Way to Moog
Moog is one of the largest employers in Baguio and they were doing a lot of hiring in 1997. Mon had a friend who worked for Moog, but he was under the impression that it was a machining company and therefore not of much interest to him. Being very impressed with Moog as a company, the friend continued to encourage Mon to apply, and eventually he submitted an application. Moog liked his resume and offered him a position as a test technician to work on Boeing and Airbus servo valves.
After several years as a Test Technician, he earned a promotion to Product Engineering Technician, then Test Equipment Engineer, and after moving up a series of levels in the team, to the position he holds today, Test Equipment Sustainment Manager (Group Leader), managing a team of eleven. He is a testament to the fact that Moog invests in its employees and endeavors to cultivate and grow talent from within.
A Day on the Job
Mon says, "There are three phases for the life of test equipment – design, fulfillment to the customer, and sustainment."  The Baguio team takes care of the sustainment phase and leading his team fills his days and challenges him and his team. The morning starts with checking AutoTime entries for his team, and then preparing for daily meetings and catching up on emails. Mon has learned that if an email topic takes more than a few minutes to attend to, it is best to move it to his calendar in an hour spot to address later.  While it may not sound glamorous, his detailed planning is the foundation for a productive day. He also tries to limit multi-tasking and allocate attention to the task at hand.
Other activities in his day involve one-on-ones with team members to address any changes needed to improve the outcome of a project. No improvement is too small, and even a 1% increase in productivity makes an impact. When it comes to managing the team and doing what is best, he says "balancing between quality work and getting it done as soon as possible is a real challenge. I need to decide whether to direct the team, casually influence them, or slowly train them." He knows that the key to talent development is to foster critical thinking so they can learn to mitigate challenges themselves. If it needs to be up and running immediately, he will supply the right answer, but if it is possible, he wants to allow for personal growth.
Rewards of the Job
Seeing the success of his team and sharing that success across the organization is a huge reward. When his internal customers are happy and he hears that firsthand, it is a testament to the time and hard work he has invested. He also takes pleasure in working with the Baguio and AGTE leadership as they give him support and continue to mold him into the true sense of a Moog leader.
Advice for Future Engineers
In this age when digital is king, Mon recommends seeking out informational videos and educational podcasts. "There is so much free educational information at people's fingertips, he says. "Set a schedule for that activity and make time to improve yourself." This goes beyond engineering to general topics like management, finance, and psychology; some of his favorite speakers are Simon Sinek, Warren Buffett, and Jordan Peterson. He wishes he had the knowledge he has now when he was younger, and encourages the younger generation to take advantage of what is available to them.
Life Outside of Work
When not overseeing his department at Moog, Mon likes to work around the house – fixing a fence, cutting down a broken branch, repairing a ceiling, sink, or cabinet door. In the evenings, he loves to watch informative videos and says, "When my brain cannot take any more learning for the day I like to listen to good music."  One of his favorite genres is jazz, especially with bass instruments. He enjoys listening to his daughters' music, including Taylor Swift. As an indulgence, he occasionally watches movies, including action and psychological thrillers. He also enjoys spending time with his three daughters, one of which is following his example and is on her path to becoming a Civil Engineer. 
If you think a career in Engineering is the right path for you and would like to find out about our internship opportunities, or you are already an engineer looking for a new adventure, visit www.careers.moog.com to explore the exciting opportunities open to you!