Engineering Spotlight: Wande Olafisoye
The fourth edition of our Engineering Spotlight series features Wande Olafisoye, Engineering Manager at our Torrance, CA facility. Unlike previous engineers we've highlighted, Wande had an established career when she joined Moog in 2017, bringing with her a wealth of experience that enabled her to hit the ground running, making an immediate impact.
Engineering Inspiration
As a child Wande gravitated towards math and science, especially physics. Growing up in Nigeria from age 6 – 16, her education was unique. She began boarding school at age 11, and the strict schedule there fostered a strong sense of independence, discipline and work ethic. She was able to choose a science track focused on taking classes preparing her for engineering/architecture (other tracks were Humanities/Art and Commerce/Business). Engineering became her prime focus for the next several years, until she graduated when she was 16, and moved to the United States. She finished one more year of high school, as required in the U.S. while living in Michigan.
College Experience
Wande attended the University of Michigan for her B.S. in Electrical Engineering and the University of Maryland where she obtained an M.S. in Biomedical Engineering. While in college she participated in several Co-Op/ summer internship programs for General Electric, Intel, Lockheed Martin, and Northrop Grumman.  Her internships provided more technical exposure in the area of electronics and design, manufacturing, quality and technical customer service.  It was through these internships that she was given the opportunity to join Northrop full time.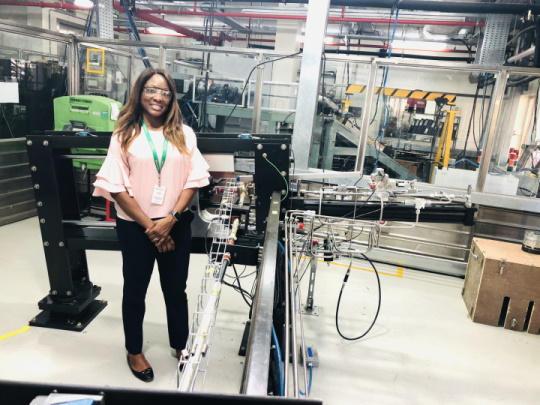 Career Moves

It was at Northrop Grumman that she was first introduced to systems engineering which turned out to be a perfect fit for her personality and skill set.  She thrived working in a cross-functional team where technical disciplines like software, electronics and mechanics are combined with personal interaction.  After several years at Northrop she moved to California and started a job at Boeing, where she worked for 12 years on flight controls for satellites and systems engineering. It was at Boeing that Wande had her first interaction with Moog, who was one of Boeings trusted suppliers. She really enjoyed working with the people from Moog and recalls them being "very professional and technically savvy." It was through this experience that she became interested in learning more about Moog and discovered through an internet search that they had a location near her in Torrance, CA. Although she had enjoyed her time at Boeing, she was feeling stagnant and ready to transition from a technical role into a leadership position. Moog seemed like the obvious place to take this next step.  Within one day of applying she was contacted and soon on her way to Moog Torrance for an interview. She fell in love with the atmosphere, people and culture and felt that if she was part of the Moog family that the work she did would have an impact. When a job offer was presented, she happily accepted.
New Beginnings
The desire to work at a smaller company was part of her decision to leave Boeing. With roughly 160,000 employees, Boeing is significantly larger than Moog and our 11,500 person global workforce. At Moog, Wande found a more supportive, intimate environment - much like a large family.
Although leadership was the goal, she decided not to immediately jump into a management position, as she wanted to learn more about the company and products first. She started out in the Gulfstream G650 and G8/P22 programs, again in a systems engineering IPT role, supporting the product end-to-end through the full cycle of the program. On her very first day at Moog she was put on a flight to Savannah, GA for a review with Gulfstream. There, she would interact with the customer and get an understanding of their concerns from their perspective – exactly what she loved about systems engineering!
After working on the Gulfstream program for a year and learning more about the company and products Wande felt ready to step into a management role. She applied for a Systems Engineering Manager job, and has now held that role for over two years. In this role she is a leader and mentor to a team of 15 engineers. While it's been a transition to go from doing the work to shaping those who do it, she has a passion for developing young engineers.
The Moog Experience
"One of the things I have truly enjoyed at Moog is the team of managers that I have at Moog, and the opportunity to work with so many females. My manager is a female and her manager is a female, four of the six Program Managers I've worked with on Gulfstream and Challenger are females.  I've never had an opportunity to work with so many women," she said. While she'd like to see more women and people of color in engineering positions, she knows Moog shares her dream of recruiting even more in these demographics. 
Giving Back
Wande loves to share her passion for math, science and engineering and regularly dedicates time to Science, Technology, Engineering and Math (STEM) programs in the area. Every year, especially in February during National Engineers Month she visits an elementary, middle, high school or college to share her love of engineering with the next generation. This is a tradition she started during her days at Northrop. Along with supporting STEM and Society of Women Engineers (SWE) she has also been involved in the National Society of Black Engineers (NSBE) and assisted in recruiting and making human resources more aware of this demographic group.  Also a member of International Council on Systems Engineering (INCOSE), she is involved in defining future process/requirements for subject areas in systems and using best practices learned in industry to help advance systems processes within her own Systems team at Moog.
Advice for Future Engineers
To those considering a career in engineering, Wande says, "Engage in as much hands on project work as you can. Seek internships and Co-Ops because they lay the foundation for working in teams and developing the technical acumen needed to succeed in the future."
Outside Engineering
Wande is just as disciplined and skilled outside the workplace as she is in it. In her free time she loves to travel, visiting 22 countries, and enjoys teaching fitness classes such as cycling and kick boxing.  Also a triathlete, she loves to bike, run and swim. Fortunately her 8 year old daughter and 12 year old son love to be active, as does her husband making fitness a family bonding experience.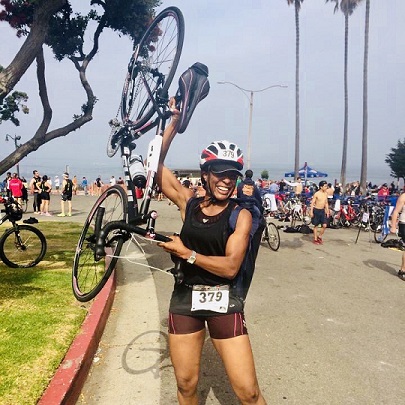 Wande is excited about her future at Moog and the opportunities that lie ahead.  As she continues to shape young engineering minds through leadership and innovation, she looks forward to opportunities where she can eventually make a global impact at Moog.