Engineering a Future in Buffalo: Dana Owczarczak
Dana Owczarczak was born and raised in Northern California. After graduating from college with a Mechanical engineering degree from the University of California, Los Angeles (UCLA), she began her career as an engineer in the automotive industry with Toyota. In 2015, Toyota asked Dana if she would be willing to relocate to Michigan as a part of the company's reorganization effort across the country.
Although moving from California to Michigan was a big step, Dana says she knew it was a great opportunity for her career development. Southeast Michigan is known as the heart of the automotive industry, and she welcomed the experience of working alongside other major OEMs in the industry. "I always wanted to be an engineer in the automotive industry. My parents owned and operated an auto shop my whole life, so I was always around cars."
After a few years in Michigan, Dana and her husband were ready to start a family and began talking about the possibility of moving to a new city. Dana's husband Matt had spent most of his life in Buffalo and always mentioned to Dana the sense of community and togetherness he felt within the city.
Matt's family still resides in the Buffalo area, so the couple decided it might be the perfect place to start looking for new opportunities.
While exploring her next career move in the fall of 2020, Dana came across a Systems Project Engineering position with Moog Aircraft Group. "Moog has always been well recognized amongst our family and friends in Buffalo as a great place to work," she explains. "We were going to have to make a big change in our lives moving to Buffalo and Moog was my first choice of companies to work for. It felt like it could be a really great fit." She jumped at the opportunity to apply and was quickly hired into the Growth & Innovation team within Moog's Aircraft Group.
Dana was immediately onboarded to the team's Energy Storage System project, working on designing and developing technology for electric aircraft applications. In Dana's previous roles within the automotive industry, she found that she excelled at leading projects and navigating ambiguity to meet products, deadlines, and goals.
She says, "As a newcomer to the Aerospace Industry, Moog was very supportive of finding the position best suited to my interests and capabilities."
Fast forward to today, Dana's primary role as program manager is to lead the team's project execution, including ownership of budget and schedule considerations. "It has been a very challenging but rewarding project. Most notable are the amazing people on my team that I get to work with every day. It is inspiring to work alongside team members who are passionate about what they do and work hard to meet aggressive targets."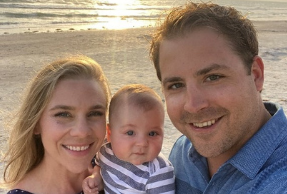 Since moving to Buffalo, what has been your favorite thing to do?
I really enjoy going to Bills and Sabres games. I didn't grow up with full seasons in California, so it is fun to have a winter sporting event that I look forward to each year. Buffalo has a diehard fanbase, no matter how challenging past seasons have been. I'm sure I speak for everyone; it has been incredibly entertaining and exciting to watch the Bills and their success the past couple of seasons and see the start of the new season!
What's your favorite part about Moog?
My favorite thing about Moog so far is our spacious campus in East Aurora. We have a network of walking trails throughout the campus. Buffalo has beautiful summer and fall weather. I love being able to take a walk, go for a run, or ride my bike during work breaks.