Engineering Spotlight: Josh George
Josh George is the next featured engineer in our ongoing Engineering Spotlight series. Working at our Tewkesbury, United Kingdom facility, he is the first international engineer from the Moog family to be featured. He joined us in 2017 and currently works as a Research and Development Engineer.
Early Interest
Josh's interest in engineering started, in his words, "as an organic process." Math was always his preferred subject in school and at age 16 he took a physics class and really enjoyed the practical experimentation. "I liked that all the physical laws around us are theories that could be disproven," he said. He didn't know yet what it meant to be an engineer, but some encouragement from his physics teacher pushed him in the right direction and the idea was born.
Getting Inspired
Before starting college Josh decided to take some time out of his education and build on life experience to be certain about what he ultimately wanted to do with his life, something he strongly encourages every high school student to consider if they're not sure what career path to take. During this three year period he took flying lessons at a local airport. He loved being in the air and learning more about how planes operated. Through this experience he decided he'd like to couple engineering with the principles of flight, and training to become an aerospace engineer became his ultimate goal.
University Experience
Feeling reinvigorated, he was now ready to enter University life and the next phase of his education. He attended the University of the West of England, in Bristol, enrolling in an integrated master's program. He chose aerospace design engineering as his focus, with an emphasis on aerodynamics and structural analysis. Having access to labs again was exciting and immersing himself in the creative process made him feel right at home. 
The University housed flight simulators and a wind tunnel. In his final year he worked with a team designing a variable camber morphing wing, which looked like a fish bowl and could move and change its geometric shape to optimize the different points of flight. He was enthused by the research and development process from observing basic principles to experimenting with a proof of concept. His key contribution was in aerodynamics and stress analysis. Once built, they tested the wing in the wind tunnel to confirm if their theories were accurate. "Design engineering aims to harmonize aesthetics, robustness and functionality," he says, and he knew he wanted to eventually work somewhere that he could apply this knowledge.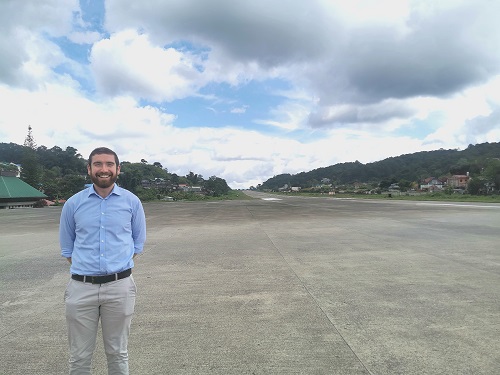 Career Steps
Upon graduation he was offered a job at Kohler®, designing showers. This didn't fit into his aerospace career plan, but he had strong grades in fluid dynamics throughout university. His mentor, having a wealth of experience in different industries, advised him that he could always change jobs but he could build cross transferable skills in engineering, and that he should accept the offer. The job was enjoyable, but after some time Josh realized he needed to look outside Kohler for the challenge he wanted. Through a company search in the Gloucestershire area, he discovered Moog. Exploring the website, he felt strongly that it would be a good fit for his skills and interests.
Joining the Moog Family
Soon Josh had an interview set up with Moog for a position in New Product Development. The interview process involved giving a presentation on a servovalve. It was very technical and he knew right away that this was where he wanted to be. Ironically, there were principles and theories he learned at Kohler that he's been able to apply at Moog, and he's realized that his time there was an integral part of the path that led him to his aerospace dream job. "In my first job I was tasked with the design of a bar-valve shower and responsible for modelling, drafting and design assurance testing. In a team, we collaborated with a global supplier to have it manufactured. This was a really useful experience as you soon understand the nuances in your design as well as gain an appreciation for quality, manufacture and supply chain concerns," he says.
The Moog Journey
It's now been three years since Josh joined the Moog family, and each day is an adventure. In New Product Development he spent his days creating servovalves for flight control systems. After 18 months an opportunity presented itself to move into Research and Development (R & D). In R & D he has more autonomy and is able to delve into many facets of engineering including system simulation, modal analysis and ceramics. He embraced the flexibility of the new role where he's often required to shift gears quickly to work on proposals.  
The Research and Design Experience
When Josh entered R & D he enjoyed coming to work even more. Scoping out new technologies and processes, design and build of prototypes, collaborating with manufacturing and visiting suppliers are just some of the activities that make up his days. One of the notable projects he's been involved with is developing a rugged torque motor to withstand the harsh vibration environments seen in engine control applications. The project has provided much opportunity for analysis techniques and design assurance testing as well as exposure to a range of manufacturing methods. Watching the design process evolve from conception all the way to proposals has been a rewarding experience. The opportunity to travel is another advantage of the role, and he's been to Moog's Baguio, Philippines site multiple times to work with the engineering team there on prototypes. Josh notes that, "The Moog culture spans the globe." He felt right at home with his Pilipino Moog family.
Advice to Those Considering Engineering
Josh offers some sage advice to those considering a career in engineering, saying, "ultimately you have to find your interest. No matter what that interest is there's almost always a way to link it to engineering when you dilute it down to process, tools and people. Process can feel a bit sterile, but it doesn't have to be. It can be creative." He's found in his experience that it pays to be a team player, to forge relationships, attend career fairs and not be afraid to ask questions. When attending career fairs himself, he found that in most cases companies prefer a person that can work effectively with others and who is capable of continued learning, to a candidate with a flashy degree. He believes this to be true, because in his opinion, "The ultimate purpose of engineering is to improve life's experience," not accumulate personal accolades.
Free Time
When he's not working Josh likes to stay active. He is training for a marathon and enjoys biking and hiking. Due to international travel restrictions, he's recently started exploring parts of the U.K., climbing the three tallest peaks in Scotland, England and Wales, as well as camping in Dartmoor. Giving back is also on the time-off schedule and he participates in STEM workshops in local schools where they complete team building exercises with a focus on programming.  The Jet Age Museum at the Gloucestershire Airport is another place he volunteers time, assisting with promoting STEM with Moog. Josh says, "Moog is very progressive when it comes to helping out in the community. They will stand by you and encourage you in these efforts, and it stands in contrast to past employers."
Looking to the Future
Josh is looking forward to the next challenge at Moog and personally – whether it's designing something that will impact aerospace for generations to come or hiking more high peaks - he's up for it! If you're like Josh and looking for an exciting career where each day is different and full of new opportunities, we invite you to join our family. Visit www.moog.com/careers to view our current global openings!