Local Mercy Flight Pilot Celebrated During Women's History Month
Women's History Month is a time to celebrate all the contributions and achievements women have made historically, including in the aviation industry. It also reminds us that we must meet future challenges with the same energy seen in leaders of the past. 
To highlight some of the amazing local women who are breaking barriers and rising to that challenge, Moog is pleased to introduce pilot Jeanne Suski. Jeanne currently flies for Mercy Flight and Thunderun Aviation, both on-demand air-transport medical services operating out of the Buffalo Niagara Airport. We enjoyed chatting with her over a phone call about her life, career path, and why her current pilot job is so fulfilling.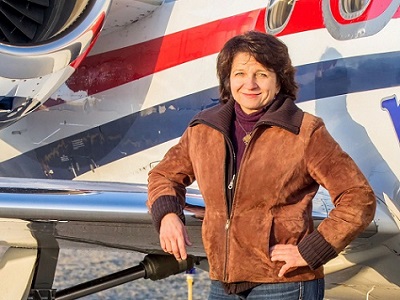 Jeanne first became interested in aviation as a young child. One summer night, her father's friend, who had his private pilot's license, asked if they would be interested in a plane ride. "I just fell in love with it," Jeanne tells us. "I had to do this one day. It was always in the back of my mind." She mentions that Sally Ride, the first American woman in space, was a big inspiration to her and her career at the time. But on a personal level, Jeanne considers her mom to be her biggest role model. "My mom worked and raised a family. I found her to be so respected. She always treated people fairly, and I think that's the most important thing I learned from her: Do your job right, work hard, and don't forget to be a genuine, honest person." 
Attending an all-girls private high school growing up, Jeanne remembers the process of choosing an area of focus in college. She did apply to the Air Force but was invited to join as a navigator rather than a pilot. Jeanne laughingly tells us, "I'm only 5 feet tall and wear glasses!"  as she remembers reading about pilots' height and vision requirements. While ultimately deciding to major in music, Jeanne was still not deterred from flying. She earned a private pilot's license during her undergraduate studies and began pursuing her instrument rating. 
An instrument rating refers to more extensive pilot qualifications required to fly under Instrument Flight Rules (IFR). Pilots are initially taught Visual Flight Rules (VFR), which define weather conditions and altitude limits (a pilot must always have visual contact with the ground). Obtaining an IFR rating is more complicated. It involves navigating weather below the minimums of VFR flying (low visibility, heavy clouds) using cockpit instruments as altimeters, GPS systems, and vertical speed indicators. 
After receiving her instrument rating, Jeanne continued working her way into an aviation career the civilian route. To gain a professional or commercial license, one must clock extensive flight hours, which can be expensive to pay for out-of-pocket. Jeanne's solution? She and a friend decided to purchase a Cessna 152 and start a business teaching people to fly. "It was a great initial job to build time in the airplane while having it pay for itself (rather than renting an airplane). It worked out really well," she explains. 
From regional airlines to caravans doing geological surveys, Jeanne has had various piloting roles with extensive flight time in both fixed-wing aircraft and rotorcraft. When asked if she had faced any challenges due to gender in her career, Jeanne notes that she always felt welcomed and respected in the aviation industry. "I've had so much support, from other pilots to mechanics to air traffic controllers," she says graciously. "Gender is not really an issue. Once in a while, when flying commercial, I might've gotten a side-eye or the occasional "Oh, you're the pilot?" comment, but you can't let that get you down." She goes on. "When you're in the cockpit with another pilot, you just want to have confidence in each other's abilities. As long as you can do that, you can both do what you love to do: fly."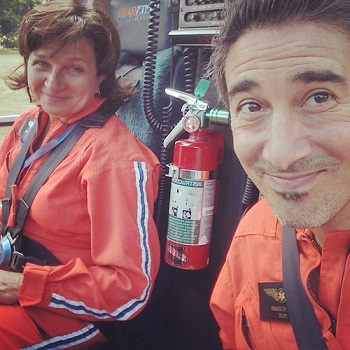 Mercy Flight pilot Pete Peterson and Jeanne in a BK-117, waiting for the medcrew to return with a patient at the landing zone
Today, we asked Jeanne what her typical workday looks like, but according to her, "no day is a typical day." Some days Jeanne flies scheduled patient transports on a Learjet 31 for Thunderun Aviation. These flights are bed-to-bed services. Her team coordinates ambulance rides to the airport, flights to and from the receiving hospital, and insurance and payment exchange. Other days, Jeanne is on-call to transport patients and surgical teams for organ harvest surgeries. These flight requests are often short notice or in the middle of the night when operating rooms don't have scheduled surgeries. When Jeanne and her team become aware that an organ may be available, they fly to get the surgical team and transport them to where the organ is. After the organ has been harvested, the situation becomes high-pressure. There is a critical amount of time between the harvest surgery and when the organ can be used for another person. 

At Mercy Flight, Jeanne flies second in command in a Bell 429 helicopter. The crew typically responds to calls for time-critical situations like motor vehicle accidents, with the goal of being in the air within 10 minutes. She notes that these types of flight situations can be high-stress, but she has never been afraid. "I think many pilots would agree with me when I say that a plane wants to fly, but you have to convince a helicopter to fly every minute." She continues, "You get in situations where you will scare yourself. Every pilot does, but you are focused on weighing options, making a decision, and taking action. You don't have time to be afraid."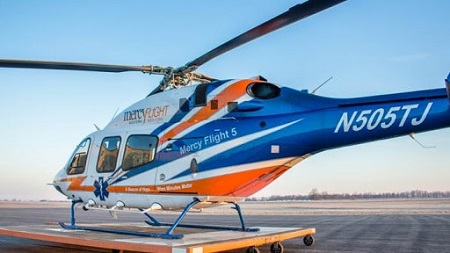 In addition to piloting, Jeanne plays an essential role in education and pilot training for Mercy Flight. In the last few years, she has helped build a successful instrument rating program and transitioned the fleet into all IFR-enabled rotorcraft. She teaches the annual medical recurrent to a crew of nurses and paramedics and aviation safety training on helicopters and Learjets. Jeanne also helps to instruct ground crew safety training for fire departments. "It teaches them how to set up landing zones and work safely with our team near the helicopter," she explains. With a law school background, she is currently involved in revising its operations and training manuals as well.  
But Jeanne's favorite part about her job? "I can immediately see the impact on the lives of the people that I fly, whether it be moving organs or injured patients, just being able to get them immediate care. I find that to be the most fulfilling part." 
Moog is proud to highlight women's specific contributions in our community and is actively committed to promoting diversity throughout our company. To learn more about the initiatives of Women's History Month, visit: https://womenshistorymonth.gov/.
To find out more about the exciting business opportunities the Buffalo/Niagara area has to offer, visit: https://beinbuffalo.com/