Moog has been a major player in motion control for the Power Generation market for over 20 years and has been responsible for many "firsts" in the industry. The spring of 2004 resulted in all the major OEM's downshifting production and the prospects in this industry looked bleak, but we remained committed to our customers.  Even in a downturn, innovative companies know there are opportunities to look at new ways to solve even the most difficult problems. This article discusses an innovative redesign of a specialized hydraulic actuator that responded to the needs of OEMs and end users to increase turbine uptime and reliability.  The design innovations incorporated in the new actuator included a rod surface hardness to reduce abrasion, high performance proprietary surface coatings to extend seal life, advanced seal technology to eliminate floating seal binding and leakage, and a stainless steel rod to prevent corrosion.  The result is a robust hydraulic actuator that can effectively prolong the life of the turbine and prevent downtime. Moog coupled this high performance hardware with an active support program to help plants easily replace actuators currently in service.
Understanding the Reasons for Turbine Downtime
Moog's customer service staff received a few inquiries about power generation actuators that were failing at different gas turbine plant sites.  Upon investigation, engineering found that the failure mode was a "mismatch" between the command signal and feedback.  Any difference greater than 3% signal variance would trip the engine and an emergency shut-down would commence. An emergency shut-down on a turbine in the power generation world has the following negative impacts:
When a trip occurs the engine shuts down and does not allow the engine to cool in the proper sequence.  The engine, while running, generates exhaust temperatures of 538 °C (1,000 °F).  If extremely hot parts such as blades are not cooled over time, the life of the engine will be reduced. 
More importantly, downtime means that the plant is not improving efficiency and minimizing supply disruptions as well as simply not producing mega watts of power.
The failures started to increase with a particular turbine site which brought this issue to the forefront.  An expert team was assembled to investigate the issue and find a solution to the problem. The piece parts were found to be dimensional within tolerance and the entire actuator was checked for misalignment, preload and other setup dimensions.   During the investigation, the team discovered scoring between the rod and floating metal seal (used for reducing pressure to rod seal.)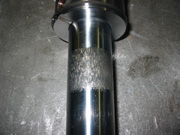 Scoring between the rod and floating metal seal.
This was due to varnish build up and contamination, insufficient edge break on the floating seal and the sealing surface finish could be improved by increasing its hardness.  With a nod from the major user, Moog's engineering team embarked on a series of improvements including changing the finishes, edge break and hardness of the material.  With improvements in mind, we calculated the failure rate to be approximately 0.5% out of 5600 units shipped.  While not statistically significant in terms of failure rate, for these customers it was a very serious source of downtime.
In 2007, Moog began the process of redesigning our hydraulic actuator and began to identify some of the challenges that would need to be addressed.  One of our major end users helped in pulling some of the following data together: 
The actuators in use may see about a million micro cycles through the course of a year.  In layman's terms, the actuator will travel close to 50 km (31 mi) with a stroke of no more than 31.75 mm (1.25 in). 

Gas Valve Actuator enduring life-cycle testing

 

The actuators were controlled with lube oil.  Lube oil leads to a higher exposure to contaminants from bearing wear and heat exposure of oil in bearings located elsewhere in the system.  Over time the lube oil breaks down as a result of heat and pressure, causing varnish to form, which of course is detrimental to the operation of the servo actuator.  Our new solution had to address both of these challenges and offer the same high dynamic performance and form factor as in the past.

As lube oil breaks down varnish forms which is detrimental to servo actuator operation.
The Moog Solution
Improving the reliability of Gas Valve and Inlet Guide Vane (IGV) Servo Actuators, while meeting demanding operating conditions, required a new approach to actuator design.  Moog's extensive internal R&D and engineering experience in robust product design gained from work in demanding actuation applications, which include fatigue test systems and flight controls for military and civil aircraft was useful in addressing these severe operating conditions.  
Moog re-engineered our Gas Valve and IGV Servo Actuators to provide extended service life between maintenance cycles. We adopted field-proven material and coating enhancements that have proven effective in on other demanding high cycle applications. Moog then applied millions of test cycles using actual field motion profiles to validate our design.
While the new seal package and actuator were in life cycle testing, our sales department solicited a number of sites that were experiencing the same failure modes.  A large site in Texas indicated they would be willing to beta test the new design for a year.  We signed an agreement and went forward with the plan.
After one year of in-service test, the Gas Valve Actuator was returned to Moog for test and inspection. The engineering team from the user site was invited for the inspection.  The innovative design was validated when we did not find any degradation to the rod or seal package and all components functioned as expected.  See figure 3. We also found that small varnish droplets from the lube oil started to adhere to the internal components of the actuator which suggested that the new design will withstand the affects of varnishing contamination.  We had successfully met the challenges posed and created a new design that will truly extend the life of the gas turbine.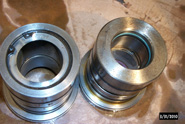 Comparing old design (left) with new design (right) after one year of operation validates no degradation.
Features and Benefits of Moog's Gas Turbine Servoactuator
Increased rod surface hardness leads to reduce abrasion for longer life and minimal leakage
High performance surface coating on rods improves surface finish and extends seal life
Advanced seal technology to reduce system pressure behind rod seal
Eliminated the floating metal seal design that was susceptible to binding and scoring due to varnish and particulate contamination
Stainless steel rod to prevent corrosion



Next Steps
The new enhanced servo actuator design is now available in the marketplace to seamlessly replace Gas Valve and IGV Actuators currently in service.  Moog has developed an innovative new service program that offers exchange inventory that is available for planned outages or emergencies in key locations around the world.  Special actuators for easy and quick turnaround are also stocked at Moog and at Moog Authorized Distributors in the Americas.
Moog has successfully taken the actuation know-how our engineers have gained through working on some of the world's most demanding applications to solve real world problems in the field. If you have a motion control challenge to solve, let us know.  
Author
Ron Gramza has been with Moog for 14 years and in the Industrial Group, Americas in various positions including Sales Engineer, Repair Administration Supervisor and now Aftermarket Support Manager.  Ron started at Moog as a test technician in Space Products in 1996. Ron studied Electrical Engineering at State University of New York at Buffalo.